ON HER MAJESTY'S SECRET SERVICE (SE)
Reviewed September 4th, 2000 by Brian White
So, what do you do when the biggest star in the world - a person inseparable with your product in the minds of the public, quits your uber-successful movie franchise? You crap your pants. And the documentary about the behind-the-scenes soap opera that was this movie gives us ALL the goods. Why describe the documentary here, rather than at the end of the review? Because this movie is a beast with two heads: the film itself, and the failed attempt at replacing Sean Connery (James Bond in Plato's world of forms): so large a failure, that Connery had to be lured back at the largest salary ever paid an actor, to star in the next installment.

After You Only Live Twice (to be released on DVD in October 2000), Connery vowed to hang up the PPK. Producers Broccoli and Saltzman had an insurmountable task on their hands. Connery's popularity in 1967, almost like that of the Beatles, cannot be properly described now. You just had to be there. There was talk of having Bond's face damaged in an adventure to explain why he looked different. The producers had an excellent ace up their sleeves: the best Flemming novel. On Her Majesty's Secret Service (OHMSS) was an extremely successful novel when Goldfinger was in theaters. The use of the book was the foundation for great film, and it was followed more closely than the majority of Bond films were to their novel equivalents. As for replacing Connery, they didn't even try. George Lazenby, a model with no acting experience, was hired based on his looks after he pursued the part. His thick Aussie accent was over-dubbed by a British actor.

Arguably, Saltzman, Cubby and Lazenby pull it off. OHMSS is considered by some to be the best Bond film. The only real problem with Lazenby is that it's awkward to see a new Bond. These days, we assume that a new Bond will be back. The audience for this film knew that Lazenby would never be back. That had to affect disbelief.

This movie boasts a complex plot; brilliant ski stunts (which would be recycled in For Your Eyes Only), and emotional highs and lows. In the words of director Peter Hunt, Lazenby is James Bond for these 2 hours and 20 minutes.

The DVD looks very good. The anamorphic, 2.35:1 transfer defies its age. The excellent winter scenery maintains all the beauty that audiences saw in 1969.

The audio is quite disappointing. If they can make a passable 5.1 mix for Thunderball, why not do it for the whole series? There is a passable, mono mix. Ho Hum.

The extras are reason enough to buy the disc. Where else can you hear George Lazenby reflect on his bizarre experience? There is a commentary by Hunt that seems to be screen-specific, and a number of TV and radio spots introducing the new Bond. There is also a feature about Q's gadgets (funny because they're nearly absent here).
Please help support our site by buying this DVD title through this link. Thank you kindly.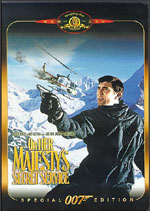 Purchase This DVD
Story / Content



Audio



Video



Extras