ORDINARY PEOPLE
Reviewed May 12th, 2002 by David Nusair
Ordinary People, like the recent In the Bedroom, deals primarily with the breakdown of a common American family. And like that Oscar nominee, Ordinary People isnít afraid to slow the pace down (way down) in order to tell its story. But unlike that film, the pace here might just be a tad too slow.

Timothy Hutton stars (in his Academy Award winning performance) as Conrad, while Donald Sutherland and Mary Tyler Moore star as his parents, Calvin and Beth. As the movie opens, the family is still recovering from the death of Conradís older brother, who died in a boating accident. Calvin and Beth appear to have a handle on the whole situation, but Conrad is another story. Shortly after the incident, he tried to commit suicide and has recently returned from a stint at a mental hospital. Heís still not 100% (he harbors intense feelings of guilt over the death of his brother), so Calvin suggests he start seeing a psychiatrist (played by Judd Hirsch). But even though Conrad is starting to heal, his parents are slowly coming apart at the seams Ė particularly Beth, whoís been content to ignore her feelings on the subject.

Though it does take a while to get into, Ordinary People is nevertheless an incredibly rich and rewarding experience. First-time director Robert Redford takes his time in setting up the story primarily to allow us to really get to know these people, so that when the family begins to break down, we have an appreciation for whatís gotten them to that point. The focus of the film is primarily Conrad and his multiple trips to Hirschís shrink. In their sessions, we begin to get a clearer understanding of why Conrad feels responsible for his brotherís death. Meanwhile, back home, the strain on Calvin and Beth is apparently too much, leading to their re-evaluation of their relationship.

Though Redfordís direction is remarkably self-assured and the script is chock full of familiar truths, itís the performances that make Ordinary People as compelling as it is. Hutton, in particular, is quite good as the conflicted and tortured teenager while Hirsch is equally effective as the psychiatrist who draws him out of his shell.

Ordinary People should be considered a slice of life story; a few weeks in the lives of this common family. Though itís perhaps a little bit too long, itís intelligent and uncompromising fare worth checking out.

Audio: Ordinary People is presented with a dolby surround 2.0 soundtrack, and here, that works just fine. This is obviously a dialogue-based flick, and the soundtrack adequately represents that. The sound essentially stays in the front end, but itís always crisp and clear (and when the dialogue is as good as it is here, thatís all you can ask for).

Video: This 1.85:1 transfer is surprisingly good, considering the film is over 20 years old. Film related artifacts are minimal, and while the film does have a soft look about it, most likely thatís what Redford intended.

Extras: A trailer.

Conclusion: Though it comes with nothing and its list price is a tad on the high side, Ordinary People is certainly worth owning.
Please help support our site by buying this DVD title through this link. Thank you kindly.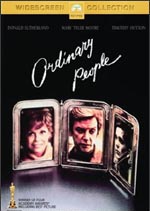 Purchase This DVD
Story / Content



Audio



Video



Extras