OUTLAND
Reviewed February 11th, 2002 by David Nusair
Outland casts Sean Connery as a futuristic space marshal… so if that premise sounds appealing, you'll probably dig this flick.

On a remote space station near Jupiter, people are offing themselves with startling regularity. Connery, the newly assigned marshal of the station, struggles to discover why all these men are taking their lives. He soon concludes that the mass suicides are the result of a drug proffered by the head of the company, a number-crunching baddie played by Peter Boyle. He figures that if the men can work a few extra hours at the expense of their own health, that's a sacrifice worth making. Connery decides to take on Boyle, despite the overwhelming odds against him (his subordinates encourage him to drop the issue, while Boyle sends for more men). Finally, the movie becomes High Noon in space, with Connery anxiously awaiting the arrival of some badass roughnecks who'd like nothing more than to turn Connery into a Jupiter pancake.

Outland's been written and directed by Peter Hyams, an underrated action director. Hyams is responsible for two of Van Damme's best flicks (Timecop and Sudden Death) and despite the occasional clunker (End of Days), he can usually be counted on to deliver white-knuckle thrills. Outland is no exception, with the highlight appearing in the form of a drawn-out footchase through the dilapidated outpost. The set design in Outland is one of realism, and in that scene, we really get a good look at what is essentially an oil-drilling platform in space. It's dirty, crowded and completely run-down – exactly the way you'd expect such a place to appear.

Not surprisingly, Connery is quite compelling as the lone figure of righteousness while Boyle is effectively sinister as the greedy villain. Outland does falter in the final 45-minutes – a little too much waiting and not enough ass-kicking – but it's otherwise an enjoyable sci-fi action flick.

Audio: This remastered DD 5.1 soundtrack is quite impressive, employing ambient and spatial effects often. While it won't knock your socks off, this is surely as good as this movie's gonna sound, and that's including its original run.

Video: This non-anamorphic 2.35:1 transfer is quite poor and perhaps the worst tranfer produced by Warner Bros. It's grainy, riddled with specks and other film-related artifacts; just all around bad.

Extras: Not much – some production notes, cast/crew bios, and a trailer.

Conclusion: Outland is an effective sci-fi flick. Check it out.
Please help support our site by buying this DVD title through this link. Thank you kindly.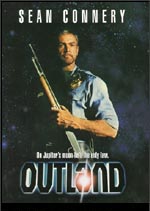 Purchase This DVD
Story / Content



Audio



Video



Extras