OUTSIDERS, THE
Reviewed January 29th, 2000 by John Randall
SE Hinton's masterpiece book comes to life on the screen.

The story takes place in the 50's deep in the heart of Oklahoma. Teens are basically broke down into two categories: the "socs" (more like "preps" of today) and the "greasers". Always at odds, the two groups have never little to do with each other except for the fights and arguments.

The movie is full of young teens – some who would become blockbuster actors years later. The bigger names include: Patrick Swayze, Tom Cruise, Emilio Estevez, Rob Lowe, Ralph Macchio, Matt Dillon and Leif Garrett - even though the star of the movie is Ponyboy who is played by C. Thomas Howell.

The basic plot line is Ponyboy opens the movie with a dialogue as he is writing a paper called "The Outsiders". Obviously the whole movie is takes place in a flashback. After some of the characters and plot are told, a small gang of "socs" confronts Ponyboy and his best friend Johnny and Johnny ends up killing one of them. Even though it was self-defense, the two boys take off out of town until things can settle down at home. In the meantime, the war between the "socs" and "greasers" has heated up even more back home. The boys away from home are alone and have no idea when they can go home or what exactly is happening.

The movie continues with many different sub-plots but it all boils down to have separated social classes can be. This is a good movie and a really good book. C. Thomas Howell did a wonderful interpretation of Ponyboy as well a very good performance by Matt Dillon – especially at the end of the film.

The video is presented in 2.35:1 widescreen format and is 16x9 enhanced. There is a pan&scan version as well. The movie is one of imagery during some sequences, but overall the transfer does not give it justice. If you happen to catch this film on cable, you will most likely see a very poorly cropped pan&scan version (as we see on this DVD) and the film will be sharpless and grainy. Though this transfer is much better than that, and this is the best version out there – it's far from reference quality. Black and colors seem strong, but detail is lacking.

The audio is presented in DD 2.0 and is not anything special. This is the type of older movie that deserved a new 5.1 remix. Dialogue and music seem ok – not much better than a mono soundtrack.

The only extra is a trailer.

If you love this movie – then get it because it is the best version of the film out. Warner hopefully could do a special edition later with a new 5.1 remix, but that is very unlikely. The movie is rated PG and runs 91 minutes.
Please help support our site by buying this DVD title through this link. Thank you kindly.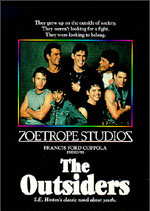 Purchase This DVD
Story / Content



Audio



Video



Extras