PATRIOT, THE
Reviewed October 29th, 2000 by Steve Jackson
Unfortunately, I did not get the chance to see this great movie at the theatres. People were rumored to say that it was actually better than Braveheart. The movie surly had its moments and many of them.

Mel Gibson plays Colonel Benjamin Martin in this fictional story about the Revolutionary War. He chooses not to fight till one day after a battle basically in his front yard; his son is murdered right before his eyes.

After going against his father's wishes Gabriel, Colonel Martin's son, is forced to serve under his father.

Colonel Martin then heads up an unusual militia that play hide, seek and kill the enemy and becomes a legend.

The movie is very moving and has some battle shots that you will remember long after viewing the movie. It has love, honor, war, friendship, humor and history and thus makes a great movie.

There are powerful performances by Mel Gibson and Heath Ledger who plays Gabriel.

The video is presented in 2.35:1 anamorphic widescreen and is truly breathtaking. This is actually one of the best discs out there in regards to quality of the video. Colors, blacks and sharpness seem dead on. There is the occasional bit of grain, which is the only reason it didn't score a perfect 100.

The audio is presented Dolby Digital 5.1 and it will knock your socks off! It's loud and clear. Dialogue, special effects and the score sound great.

The extras on the disc are quite good: audio commentary with director Roland Emmerich and producer Dean Devlin, 6 deleted scenes, 3 featurettes, conceptual art, a still gallery, production notes, bios and even two trailers.

A solid job by Columbia TriStar. The movie is quite good, however a bit long. It is rated R for graphic violence.

If you are anything like me, you won't break away from hit movie without hitting that pause button. I found myself cheering for both sides and actually learned a lot about the Revolutionary War.
Please help support our site by buying this DVD title through this link. Thank you kindly.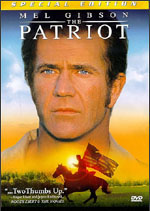 Purchase This DVD
Story / Content



Audio



Video



Extras