PATRIOT GAMES (SPECIAL EDITION)
Reviewed May 11th, 2003 by Dan Jones
Patriot Games, based on the novel of the same name by Tom Clancy, marks the theatrical sequel to largely successful The Hunt for Red October. Changing the formula slightly are some cast shifts; Jack Ryan is no longer portrayed by Alec Baldwin, rather Harrison Ford, while Anne Archer now plays his wife, Cathy Muller Ryan.

Patriot Games is a bit more straightforward then its predecessor in Red October and successor in Clear and Present Danger. Jack Ryan has now stepped down from his position in the CIA and is vacationing in England with his wife and child. By sheer dumb-luck, Ryan stumbles into an assassination attempt on Lord Holmes (played by James Fox) outside of Buckingham Palace. Ryan helps to stop this attack, in the process killing one of the assailants and capturing the group's leader, Sean Miller (Sean Bean). Unlucky for Jack is the fact that the man he killed is Miller's brother; even more unlucky is the fact that Miller will eventually escape his captors and seek revenge on Jack and his family.

Ryan is thusly drawn back into the CIA with a simple objective: to save his own life, as well as the lives of his family.

Ford seems to take over the Jack Ryan role fairly well, leaving little want for the original Baldwin. The film is also helped with a solid supporting cast in Archer, Bean, Thora Birch, James Earl Jones, and Samuel L. Jackson.

Of the first three films in the Jack Ryan series, Patriot Games stands out as the more atypical film of the three; with a relatively straightforward storyline revolving around two men, Ryan and Miller. This is not to say it is not entertaining, it's just that similar storylines are often used in the action-drama genre.

The video presentation here, in 2.35:1 anamorphic widescreen, is a noticeable improvement over the previous non-anamorphic release. As compared to the previous films (not Sum of all Fears) in the Jack Ryan series, this transfer falls in between Red October and Clear and Present Danger. Detail is strong; colors are vibrant without bleeding, and flesh tones are accurately represented. Darks and blacks are fairly solid. I noticed no compression problems and little in the way of haloing due to edge enhancement. A nice transfer overall.

Audio wise we have 5.1 mixes in Dolby Digital and DTS. For an action film, Patriot Games seems somewhat subdued here, never really presenting that active of a soundstage, nor that resounding of a low end. Surround use is adequate, though not providing much in terms of discreteness between channels. On the plus side, the score is mixed beautifully, and dialogue is crisp and clear. Somewhat lackluster.

Again, we have an underwhelming amount of extras on this Special Edition. Even less then can be found on The Hunt for Red October SE.

"Patriot Games Up Close - New Cast & Crew Interviews" comes in at just over 25 minutes in length, providing a good portion of actual new interview footage with the cast and crew, specifically Ford, Jones, and Archer, as well as the film's director, Phillip Noyce. There is some nice commentary here, describing the reasons for Ford's replacement of Baldwin as well as problems with the film's original ending. We also have discussion of some of the film's sequences.

Besides that, we have the film's theatrical trailer, presented in non-anamorphic widescreen.

Patriot Games is an adequate follow-up to The Hunt for Red October, yet I can't help but think its all too typical of an action-drama. The acting is good and the cinematography is well done, yet the story is a bit too cliché. Having not read the novel I cannot say who is to blame for this, though Clancy has criticized the adaptation so there's a start. Like the SE's for Red October and Clear and Present Danger, this release is again sorely lacking in extras. However, the new anamorphic transfer and small featurette do give it a large edge over its predecessor. For any fan of the film, this new release is worth picking up. For the rest, maybe give it a rent before you buy.
Please help support our site by buying this DVD title through this link. Thank you kindly.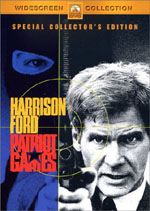 Purchase This DVD
Story / Content



Audio



Video



Extras