PAUL MCCARTNEY: BACK IN THE US
Reviewed January 16th, 2003 by Brian White
The hottest concert tour of 2002 is available on DVD. $25 is much better than the $150 you would have spent on tickets, and you can watch the show from the comfort of your own home. Sweet, isn't it? Back in the US is a concert film shot on Paul McCartney's wildly successful tour of the United States last year. It captures some terrific performances, and some great backstage stuff. You get to see Paul hanging with new wife Heather Mills, Paul chumming around with his band, Paul in leer jets, and people losing their minds about seeing Paul.

This concert played on ABC around American Thanksgiving. While that show was very good, the DVD version benefits from a much longer setlist, some extras, and better audio.

The Driving Rain tour was Paul McCartney's first tour in ten years. While always a huge draw, McCartney must have been surprised at the reaction to this tour. Based on the footage here, this concert tour seemed to really affect people. The audiences are Paul-mad. Here is a piece of history, an icon of the twentieth century. One point of interest is the age spread in the audience. Sir Paul's audience runs the gamut.

Several shows were filmed, with cameras on the audience, and on Macca and his great band. You get to see several celebrity faces in the stands, including Tom Cruise, Jack Nicholson, John Cusack, and Howard Stern. More interesting are the shots of random audience members, and how moved they are by the music. You can almost see the memories in their faces.

McCartney is arguably up there with Gershwin as one of the greatest composers of the last century, and this show proves that he's equally talented as a performer. Despite being in his early sixties, Paul can still belt out the tunes. He sounds great. The touring band, also heard on Driving Rain, is very good as well.

The show has been described as "All killer. No filler." That is certainly true. McCartney's song catalogue is so rich and varied that he presents an amazing collection of classics during this show. The party starts with a blast, as Paul takes to the stage with the Beatles' "Hello Goodbye," and continues into Wings' "Jet." There is an acoustic section in the middle where Paul pays tribute to murdered Beatle John Lennon with "Here Today" from his Tug of War album; and to recently deceased Beatle George Harrison with a touching rendition of "Something," played on ukulele. While it is obvious that the audience were after the Beatles hits, an equally enthusiastic reaction is generated by Paul's solo hits, like "Band on the Run," and "Maybe I'm Amazed." Some great footage accompanies the tunes on screens behind and above the stage. The footage ranges from psychedelic colors, to footage from Hard Days Night.

The video on the DVD is quite disappointing. The image is very grainy, and in 4:3, non-anamorphic. Also, the contrast seems funny. Not good.

For audio, you can select from digital stereo, and Dolby Digital and DTS 5.1 mixes. This choice is certainly a welcome addition for a concert DVD. The concert sounds very detailed and clear, though it is not the best sound mix that I have heard for a live DVD. There are plenty of crowd sounds toward the back, and the band mix is very good. There is ample punch.

There are a few extras on the disc as well. You get some sound checks, extra songs, and more behind-the-scenes stuff. Amusingly, each menu option is introduced by Paul. There's something weird about hearing Paul say "Watch Concert Film" when you select that option.
Please help support our site by buying this DVD title through this link. Thank you kindly.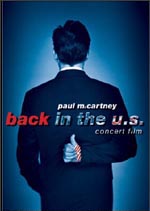 Purchase This DVD
Story / Content



Audio



Video



Extras