PINOCCHIO
Reviewed December 13th, 1999 by Staff
Disney finally is getting their heads out of the mud with their release of their major animated selections on DVD. Pinocchio is one of the all time classics of a puppet coming to life. His only desire to become a real boy. He learns the hard way, who to trust and how to stay out of trouble! This one is obviously a family movie that anyone age 2 and up can enjoy! Everyone is familiar with the story so lets get on to the DVD!

The video is really pretty good. Not the best that DVD has to offer, but it is clear and a lot more vibrant then its VHS counterpart. The colors are accurate with deep dark blacks and very slight hints of grain in some scenes. One neat trick that Disney did was if you recall the old VHS version you could notice that the credits tended to bob and weave, very typical of the old animation style. Well on the DVD you will notice that a quick wiggle and then the screen freezes. Disney thought correctly that that bob and weave would be very apparent on the DVD and they needed to correct it and they did by freezing the picture after each credit.

The audio while very clear still is not the best that DVD has to offer. You will only get a Dolby Digital Stereo audio track. What a shame it is that Disney did not realize the demand for a full Dolby Digital 5.1 sound track. Of course it is not surprising from Disney, since when have they ever really had their ear to the streets to see what the consumers want. Does that remind you of another four-letter word? D _ _ X? Although the sound track is THX certified you are not quickly drawn in to the movie by the audio. Keep in mind though the audio is probably at least 2 times better then the VHS version.

Finally, some of the extra's you get are the original Theatrical Trail from 1940. Disney also considers the French language track and the fact that the DVD has artwork on the actual physical disc as additional extra's. Overall a good DVD that will hold its value better then the VHS version and something that will provide entertainment for many generations to come. One other negative is the price, you will be hard fought to find this title for under $18, which is about $8 above most other DVD's with a MSRP of $39.99.
Please help support our site by buying this DVD title through this link. Thank you kindly.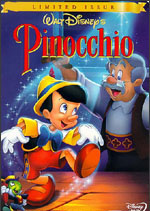 Purchase This DVD
Story / Content



Audio



Video



Extras