PLANES, TRAINS AND AUTOMOBILES
Reviewed June 23rd, 2001 by David Nusair
Planes, Trains and Automobiles was the beginning of the end for John Hughes. His next film would be She's Having a Baby, a generally misguided attempt at seriousness. Uncle Buck, a genial comedy with an emphasis on physical comedy rather than verbal hijinks, was his last movie of the 1980s. He spent the '90s amusing children and hardly anyone else with slapstick flicks like Flubber and 101 Dalmations. But Planes, Trains and Automobiles was Hughes at the top of his game.

Steve Martin stars as Neal Page, an uptight advertising executive who just wants to make it home for Thanksgiving. Unfortunately, fate has conspired against him and no matter where he turns, his attempts to trek home are thwarted at every turn. Along the way, he unwittingly hooks up with Del Griffith (played brilliantly by John Candy), a loud-mouthed, obnoxious shower-curtain ring salesman. Together, they try almost every form of transportation (including planes, trains...you get the point) along the way.

Audio: The audio is presented in a remastered Dolby Digital 5.1 soundtrack and for the most part, it's good. Adequate would be a more accurate word, because this isn't exactly a film with a wide sound range. Occasionally, as in the scene in which Del and Neal are on the highway, the rear speakers will come alive but this certainly isn't a reference quality presentation. It's fine for the film, though. No other tracks are present.

Video: This anamorphic 1.85:1 transfer is an incredible improvement over the video edition. Where it used to be soft and colors bled like crazy, this transfer is sharp and nearly flawless. It's a grainy image, but that's to be expected of a movie that's more than 10 years old.

Extras: Zero. There's not one extra to be had on this literally bare-bones disc (unless, of course, you consider subtitles to be an extra). That's really a shame, too, because the television version of this film has at least a couple of scenes that aren't present in the theatrical version (and, hence, this one).

Conclusion: This classic comedy is just the sort that is sorely missing from today's movies. But the complete lack of extras and the high retail price make this a difficult recommendation, unless you're a huge fan.
Please help support our site by buying this DVD title through this link. Thank you kindly.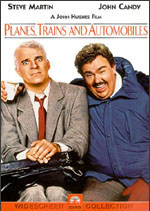 Purchase This DVD
Story / Content



Audio



Video



Extras