PLANET OF THE APES: THE COMPLETE TV SERIES
Reviewed December 25th, 2001 by Dan Jones
Based on the enormously successful and forever popular 1968 science fiction classic, the 1974 TV Series for Planet of the Apes attempted to lengthen the story of two astronaut's journey after crash landing on a mysterious planet inhabited and controlled by apes. Unfortunately, the TV series lasted only fourteen episodes (of which only thirteen aired) in its entirety before being axed by the network. Of course, these types of shows are common for building a cult following; this was clearly no exception. This Planet of the Apes TV series reminds me of a great deal of the other shows shown on the obscure Sci-Fi channel; the acting is okay, some of the script seems a bit forced here and there, and overall you are either going to love it or hate it; middle ground is hard to find with this kind of material.

This Planet of the Apes TV Series set has, overall, a good story, with some decent acting, writing, and directing. Coming into this set without ever seeing the series myself I was left fairly impressed, yet not surprised the show was cancelled; too much, too soon, for its time perhaps. There are some standout performances here and there, as well as some amusing guest appearances, but, for the most part, this is a series that will probably most interest those who have seen it before; people who have not seen the show will probably not be attracted to it.

I would go through each individual episode in this review, but as that would be extraordinarily tedious, and probably not overly important anyways, so, I'll pass on that thought. The never before seen in the U.S. episode entitled, "The Liberator" will most likely be a huge draw for fans of the series to finally see the somewhat darker thirteenth episode of the series.

This complete TV series of Planet of the Apes is presented on four DVDs. One thing I found a bit odd about this release was the choice in cases. I own all the X-Files season sets and they include seven disks per set, yet are the same exact size as this four disc set. The reason for this is that Planet of the Apes is presented in a 3 way snapper case, whereas the X-Files and others (the Simpsons – season one for example) are held in a sleeve with a folding type holder inside, which, all-in-all, is bulky and, in my opinion, not as good as the folded counterparts that store more discs in less area, and therefore less room on my ever crowded shelf. But, I will survive.

For audio on this set one must take into account the source being drawn from. It seems not much was really attempted in the form of audio restoration, as we're just given the original mono (Dolby 1.0) track that accompanied the show's short TV run. Generally the audio is okay, but generally very tinny and somewhat bright overall. But, most of the cult followers should have no problems with the job done on the audio front. Just don't expect to be blown away by the sound. A remaster of any sorts would have been nice (even just stereo); but all things considered, it does the job

Also included is a French 1.0 track and English and French subtitles.

On the other hand, the video, presented in its original 4:3 aspect ratio, is adequate. Colors are pretty drab, nothing too vibrant, but this can only be attributed to the old prints used, and should be expected. Scratches, dust, and grain are present throughout, but not too distracting. There are the occasional digital compression artifacts, but nothing major. It seems edge enhancement has not been used. For the most part the video is not too soft, giving a fair amount of detail. But, again, this is an old TV series, and one that was quickly cancelled, we cannot expect too much.

For extras, there really are not any. We get the theatrical trailer for the Tim Burton remake of Planet of the Apes, as well as a fairly decent insert giving us standard episode information. We also get a promo clip for the Planet of the Apes - Evolution box set. Besides that, there is no included commentaries or additional footage or interview material of any sorts.

Overall, the Planet of the Apes complete TV series is an uncommonly bare-boned release of a TV series to the DVD format. Most other complete sets of TV series offer a little bit more then what was already seen in the way of extras, commentaries, and audio and video remasters, yet, this set just serves to bring back the original series to the better DVD format for those that loved it in the past. The show, surprisingly enough due to the popularity of the movie it was based on, was basically a flop back in its time, and therefore I guess it is to be expected that not much money and effort would be put into the set. Yet, for those who are fans of the series, or for those that love good-old-fashion science fiction, the Planet of the Apes complete TV series is recommended.
Please help support our site by buying this DVD title through this link. Thank you kindly.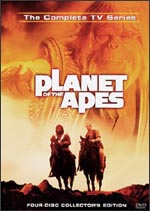 Purchase This DVD
Story / Content



Audio



Video



Extras