POPEYE
Reviewed July 9th, 2003 by John Randall
"What am I? A barnacle on the dinghy of life? What am I? I aint no physicist, but I knows what matters. What am I? Some kind of judge or lawyer? Maybe not, but I knows what law suits me. What am I? I'm Popeye the Sailor!"

Back in 1980, Paramount and Disney teamed up to bring the crazy cartoon character Popeye to the big screen. Only one man could have played the roll – Robin Williams. Not to mention Shelley Duvall's portrayal of Olive Oyl is perfect. Popeye is a wonderfully crafted musical with some of the strangest sights to ever appear on film.

The film takes place in Sweet Sweethaven with Popeye searching for his long lost father. Upon his arrival, you will realize pretty quickly that the town's residents must all be on drugs. Every single character in the film is hysterically exaggerated.

Popeye eventually meets the hamburger stealer Wimpy, Olive Oyl and her family, and of course the biggest meanie of them all: Bluto.

Huge muscles, interesting humor, great crazy songs, and of course spinach – what more could you want from a lazy Sunday movie?

The video on the DVD is presented in 2.35:1 anamorphic widescreen and might surprise you a bit in terms of quality. This is a pretty solid transfer with just some slight grain here and there. There is a lot of color in the film and the transfer shows them off nicely.

The audio has been remixed in Dolby Digital 5.1 (a separate 2.0 track is also on the disc). Most of the sound comes from the front three speakers, but you may indeed here some discrete sounds from your surrounds now and then. Dialogue comes through clear, and the music in the film never sounded better. Bass may have been a bit stronger, but you really cannot complain.

Unfortunately, not a single extra has been included on the DVD.

Overall, Popeye may have not done well originally at the box office, but it is a fun musical film that the whole family can enjoy. The DVD is pretty good, but could have used at least some extras. Popeye is rated PG for a few swear words and runs just under two hours. He's strong to the finich - cause he eats his spinach - he's Popeye the Sailor Man!
Please help support our site by buying this DVD title through this link. Thank you kindly.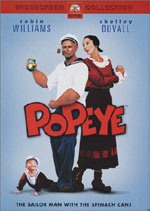 Purchase This DVD
Story / Content



Audio



Video



Extras