POWER RANGERS - NINJA STORM: CYBER CLASH
Reviewed February 12th, 2004 by David Nusair
Power Rangers Ninja Storm continues the adventures of the Mighty Morphin Power Rangers. In this offshoot of the series, several Rangers find themselves fighting the evil Lothor and constantly thwarting his plans for world domination. This DVD set collects four episodes of the series.

The first episode, entitled Scent of a Ranger, follows our intrepid heroes as they attempt to stop an evil warlord named Lothor. His devious plan involves turning people into perfume, which he begins to execute with the help of a loyal minion. An epic battle between gigantic robots ensues. Meanwhile, Cam creates a clone of himself to help with all his work. Unfortunately, his clone seems to be more interested in partying and taking it easy than with working.

Next up is a episode called I Love Lothor, which finds the evil Lothor looking to improve his popularity. He hires an image consultant, who advises him to star in his own sitcom (aptly titled I Love Lothor). Meanwhile, two of Lothor's minions have concocted a potion that will allow whomever they wish to fall in love with them. Their plan is to make a Power Ranger fall in love with them, and use him to take over the world. Things go awry when Cam and Blake ingest the potion, but wind up falling for fellow Ranger Tori. The episode ends with a battle between gigantic robots.

The next episode is called Good Will Hunter, and involves the evil Lothor and his lost P.A.M. (Personal Alien Manager). It falls into the hands of a young boy that Hunter has begun mentoring, and two of Lothor's subordinates are sent to get it back. Meanwhile, the other Rangers are entering a contest for the best sports video – with Cam doing the filming. As expected, the episode concludes with a fight between gigantic robots.

In All About Beevil, one of Lothor's underlings – Marah – is banished from his spaceship for not being evil enough. She's sent to Earth in human form, and forges a friendship with Ranger Dustin. She's replaced by Beevil, a powerful villain that seems to have a real shot at destroying the Rangers. The episode finishes with a gigantic robot skirmish.

Audio: All the episodes in this collection are presented in 2-channel Dolby Digital Surround. Though there's nothing amazing about the sound quality here, it is clear enough to get the job done.

Video: The full-frame transfers are expectedly quite crisp, with absolutely no instances of artifacting.

Extras: In a feature entitled Virtual Trading Cards, users can select a character and learn information about them. And in Ninja Moves, we're shown some simple martial arts techniques. Also included are the expected Disney sneak peeks.

Conclusion: Though the primary age target for these episodes is under 10-years-old, the good-natured vibe that's inherent in the series makes for a viewing experience that's not entirely painful for adults.
Please help support our site by buying this DVD title through this link. Thank you kindly.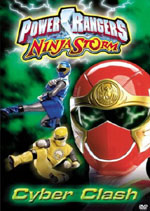 Purchase This DVD
Story / Content



Audio



Video



Extras