POWER RANGERS - NINJA STORM: SAMURAIíS JOURNEY
Reviewed February 12th, 2004 by David Nusair
Power Rangers Ninja Storm continues the adventures of the Mighty Morphin Power Rangers. In this offshoot of the series, several Rangers find themselves fighting the evil Lothor and constantly thwarting his plans for world domination. This DVD set collects four episodes of the series.

The first episode, entitled Pork Chopped, finds the Rangers fighting General Trayf Ė an evil pig-like creature sent to destroy them by Lothor. Meanwhile, Tori is chastised for using her ninja powers in public (after making plans with two friends at the same time, she runs between both using her super-fast skills).

In The Samuraiís Journey Part One, the Rangers come under attack from a new foe thatís more powerful than any theyíve encountered before. After their energy is depleted, it seems as though all is lost. But Cam, the resident techie who wants nothing more than to be a Ranger, agrees to travel back in time to retrieve the one power source that will help the weak Rangers.

The Samuraiís Journey Part Two continues the storyline, with Cam heading to the past in order to recover a mystical amulet. While there, the plot takes a decidedly Back to the Future-esque twist, as Cam meets both his mother and father. The episode also reveals Lotherís origins, and why heís so determined to destroy the Power Rangers.

The Samuraiís Journey Part Three finds Cam, now a full-fledged Power Ranger, joining the epic fight against the evil Lothor. But whenís heís stung by a life-sized insect, he begins to display bug attributes. Meanwhile, the rest of the Rangers have their hands full with Lothorís many minions.

Audio: All the episodes in this collection are presented in 2-channel Dolby Digital Surround. Though thereís nothing amazing about the sound quality here, it is clear enough to get the job done.

Video: The full-frame transfers are expectedly quite crisp, with absolutely no instances of artifacting.

Extras: In a feature entitled Virtual Trading Cards, users can select a character and learn information about them. And in Ninja Moves, weíre shown some simple martial arts techniques. Also included are the expected Disney sneak peeks.

Conclusion: Though the primary age target for these episodes is under 10-years-old, the good-natured vibe thatís inherent in the series makes for a viewing experience thatís not entirely painful for adults.
Please help support our site by buying this DVD title through this link. Thank you kindly.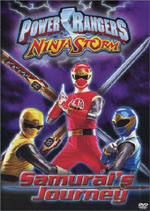 Purchase This DVD
Story / Content



Audio



Video



Extras