PRINCE OF EGYPT
Reviewed October 3rd, 1999 by Staff
Dreamwork's newest animated feature Prince of Egypt is one word "Excellent!" The biblical story of Moses is the first time DreamWorks has touched such a religious topic. Numerous stars, too many to name, are the voices behind the animation. Try to listen carefully and see which one's you can identify. Numerous characters you will be saying, "Oh my gosh I would have never guessed he/she was that characters voice!" This is a great entertaining story of how two brothers were destined to become enemy's and how one man freed his race.

The video transfer is the best available on DVD, not a hint of grain, vivid colors and just plain outstanding! You will be treated to an anamorphic widescreen transfer at the original theatrical aspect ratio of 1.85:1. This is just remarkable DreamWorks did this movie justice!

The audio track is just as impressive as the video transfer. You will be treated to a fully active Dolby Digital 5.1 sound track. That is so clear and accurate that you will be engulfed in the movie within seconds! Only a few titles like Mask of Zorro and Star Trek Insurrection have such powerful audio tracks.

The extra's are incredible DreamWorks has included a slew of them. The extra's range from commentaries to the making of to story boards to an animation feature and a very cool song from the movie played back to you in all 28 languages seamlessly. To hear this song is just unbelievably impressive of what DreamWorks has done with the distribution of this movie. There are numerous other extras are too, including: Focus on technical effects, cast and filmmakers' bios, production notes, and special sneak previews. If you can find this title for less then $20 pick it up, its worth much more, it rivals some of the 39.99 special edition movies out there.
Please help support our site by buying this DVD title through this link. Thank you kindly.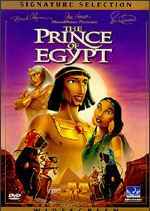 Purchase This DVD
Story / Content



Audio



Video



Extras