PRINCESS BRIDE: SPECIAL EDITION
Reviewed September 29th, 2001 by Brett Coon
As an enthusiastic fan of Rob Reiner's classic "The Princess Bride", I was disappointed with the complete lack of extras on the film's original no-frills DVD release. I bought it anyway, of course, since the film is outstanding in any form, but cursed the studio for not giving such a fantastic film the deluxe treatment it deserved. So, you can imagine how excitedly I awaited the release of this special edition DVD, which promised a boatload of extras, including new commentaries and documentary features.

Before I get into a description of all these extras, let me say a bit about the film itself for any readers who aren't fortunate enough to have seen it already. In a nutshell, "The Princess Bride" is a comedic fable about a woman who loves a farm-boy, an evil prince who wants her as his wife, a ragged collection of thieves, and a six-fingered swordsman. It also works in screaming eels, enormous rodents, the Cliffs of Insanity, and the Pit of Despair, to name a few highlights. Though some of the action is too intense for the very young, the movie appeals to a wide range of ages with its humor, action, and, uh, not too much kissing.

The primary reason for excitement with this release is the collection of extras packed onto the disc. It features three featurettes, two audio commentaries, behind-the-scenes footage, a photo gallery, trailers, and more. The highlight is a new documentary feature called "As You Wish". This is a very enjoyable and informative program that includes numerous interviews with the cast and crew, some humorous anecdotes, and generally convinced me this movie was a blast to make. Another, older featurette on the film is also included, but much of what it contains is covered by "As You Wish". In fact, it appears that some footage is common between the two featurettes. Another nice extra is back-stage footage shot by Cary Elwes during the making of the film. Though it's obviously a lot less informative that the documentaries, it does provide a nice look at the cast and crew clowning around, among other things. The photo collection is, well, a collection of photos. Nice to have, even if they're not terribly exciting.

The audio commentaries aren't the best I've heard, though I'm sure most fans of the film would enjoy them. Rob Reiner relates some interesting stories, and despite much of what he says having already been covered in the featurettes, he manages to keep things interesting. The second commentary track, by author William Goldman, suffers mostly from frequent gaps. Mr. Goldman explains at the beginning of the commentary that he hasn't seen the film since its release, and thus he frequently gets absorbed in the film and forgets to speak. When he is speaking, however, he usually has something interesting to say, which would be ideal in just about any other context.

The audio program is presented in 5.1 English Dolby Digital, and mono Spanish. The English soundtrack is clear and generally very good, though not really impressive. There are few directional effects, and the surround channels were not very active. The bursts of flame in the fire swamp have nicely enhanced bass, and produced what were by far the most dramatic audio effects in the movie on my system. Subtitles are available in English, French, and Spanish. They can come in handy for a few of Andre the Giant's lines.

Video is probably the one area where I was a little disappointed. While the image quality is good, it didn't appear to be any different than the video from the prior DVD release. It is widescreen enhanced, at a 1.85:1 aspect ratio. The colors are good, though sometimes a bit dark, and I noticed occasional scratches and blemishes. I suppose if I weren't so fond of this film I wouldn't fault it even for that, given the age and budget of the film, but I was hoping for a deluxe remastering. Oh well, at least everyone else I've shown it to thought it looked great.

Overall, this is a great DVD of a fantastic movie. The extras are a huge improvement over the prior release, and in fact make a lot of other special edition discs looks pretty pathetic. The only thing that prevents me from gushing uncontrollably is my hope that someday the video will get remastered. However, I wouldn't begin to suggest that anyone wait for this improbability. "The Princess Bride" is a film that everyone needs to watch multiple times, and this edition finally backs it up with the extra goodies we fans crave.
Please help support our site by buying this DVD title through this link. Thank you kindly.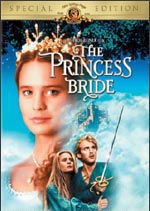 Purchase This DVD
Story / Content



Audio



Video



Extras