PROOF OF LIFE
Reviewed June 19th, 2001 by Len D. Martin
Cast: Meg Ryan (Alice Bowman), Russell Crowe (Terry Thorne), David Morse (Peter Bowman), Pamela Reed (Janis Goodman), David Caruso (Dino), Anthony Heald (Ted Fellner), Stanley Anderson (Jerry), Gottfried John (Kessler), Alun Armstrong (Wyatt), Michael Kitchen (Ian Havery), Margo Martindale (Ivy).

Director: Taylor Hackford

Story: Terry Thorne, an agent for an international firm specializing in what is called K & R, Kidnap and Ransom, explains to his superiors how he succeeded in securing the release of a hostage. In Tecala, a fictional South American country, where the revolutionary movement has grown into a professional kidnapping operation, we meet Peter and Alice Bowman, an American couple, going through a rough time in their marriage. Alice wants to return to the States but Peter insists on staying in Tecala and completing his job. Peter is a sub-contracted engineer heading up a dam building project, but the revolutionaries believe he is working for an oil company and is therefore worth kidnapping for ransom. One day, while driving to work, he is stopped at a roadblock. Suddenly, a group of terrorists rush out and take everyone hostage. Separated from the rest of the hostages, Peter finds himself seperated from the rest of the hostages and is taken deep into the mountains Meanwhile, Alice learns of her husband's capture from friends and Peter's sister, Janis, has flown in from the U.S.to be with Alice. In an effort to secure Peter's release, his employers enlist the help of Terry Thorne to negotiate with Peter's captors and reach an agreement with them. But Terry is pulled from the case because someone in New York dropped the K&R insurance to cut costs. The company then hires a local negotiator to continue with the rescue efforts. Upon returning home, Terry speaks with his superiors and realizes that no other firms are willing to take the Bowman case. Now more of a personal mission, Terry returns to South America to help get Peter home. With much hesitation, Terry convinces Alice to dismiss the local negotiator and let Terry handle the case. Knowing that Peter is more valuable alive than dead, Terry will use this to his advantage in the negotiations.

Audio: Presented in English and French Dolby Digital 5.1 Surround, with good LFE effects.

Video: Presented in Anamorphic Widescreen 2.35:1 with Subtitles in English and French.

Extras: Behind-The-Scenes Documentary - "The Making Of Proof Of Life"; Feature-Length Audio Commentary by Director Taylor Hackford; Interactive Menus; Cast/Director Filmographies; Theatrical Trailer; Scene Access.
Please help support our site by buying this DVD title through this link. Thank you kindly.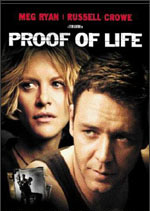 Purchase This DVD
Story / Content



Audio



Video



Extras