RARE BIRDS
Reviewed December 9th, 2002 by Brian White
When reviewing The Shipping News, Roger Ebert said that Rare Birds is a much better film about Newfoundland. His issue with Shipping News is that the characters seemed more like movie characters than people. Certainly, Rare Birds is a better cross-section of Newfoundland, with the exception of Andy Jones' character, but more on that later. Rare birds is an interesting comedy. I've read comparisons to Waking Ned Divine, and that comparison seems to fit. It isn't so much a laugh-out-loud movie, as a fun journey.

Rare Birds stars William Hurt as Dave, a chef who runs a fine-dining room called the Auk, somewhere on a coast of Newfoundland. Dave is really at a crossroads in his life. His marriage is ending, and he has no customers in his fine restaurant. He wants to throw in the towel. Enter his solution: Phonse, played by the hilarious Andy Jones. Phonse has a whole lot going on. He has plenty of schemes, and just as many plans. He serves as the Eddie Haskall character here, in that you get the impression that only disaster can come of his ideas. Phonse is full of mystery. He gets our protagonist into a situation, and the drama and comedy of the film are the result of Phonse's scheme.

Phonse points out that people come to Newfoundland from all over the world to see whales, and other wonders of nature, so why can't Dave profit off of this phenomenon? He convinces Dave to call a local bird-watcher's radio show and claim to have seen a nearly extinct bird on the rocks by the Auk. What seems like a simple little lie, evolves into a larger problem in this quirky and fun little film.

Do not get the impression that the film is just about birds. Phonse is into some more fantastical and illegal stuff as well. The bird lie is the tamest thing he does.

Dave's life is also altered by the entrance of Phonse's sister-in-law, played by the lovely Molly Parker. She's bookish, and quite exotic for an outpost in Newfoundland. She brings magic into Dave's life, conveniently slipping into the role of the much-needed waitress for the now booming Auk. Dave quickly gets over his soon to be ex-wife.

While Hurt is good as always in his role, the real standout here is Andy Jones. Jones was an originator of Codco, a Newfoundland comedy troupe that gained national attention when their sketch show aired on the CBC in the early nineties. Jones has been making films since he left Codco. Here, his character is hilariously mysterious, and mischievous. And unlike the poor Newfoundland accents in Shipping News, Jones mines new levels in the complexity of the local accents. He adopts an outport Protestant accent (I only know this because I listened to the commentary). Rounding out the cast is the lovely and talented Molly Parker, who seems to be in every Canadian movie. Once again, she's great. You understand why Dave falls for her.

The video on the DVD is presented in 1.85:1, anamorphic. The film stock is quite grainy, but the movie is very colorful and well shot. There are some lovely landscape views.

The audio is in Dolby Pro-Logic. Too bad really, because the mix is surprisingly active. Conversations stretch from the center channel to the fronts. There are plenty of sound effects in the rear channels as well.

Director Sturla Gunnarsson provides an interesting commentary. He is joined by the producer Janet York. It is interesting to hear about the evolution of the book, to script to screen. It is also interesting to hear how actors as different as Jones and Hurt complement each other. There is nothing else in the way of extras.

Rare Birds is an entertaining little film. Give it a try.
Please help support our site by buying this DVD title through this link. Thank you kindly.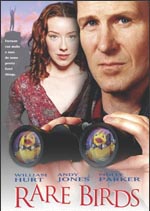 Purchase This DVD
Story / Content



Audio



Video



Extras