RAT RACE
Reviewed February 24th, 2002 by Brian White
So a couple of weeks ago, I walked into Blockbuster on a Friday night. I see piles of people in line. I ask the guy behind the desk if it's always so busy, and he tells me that everyone's in line for Rat Race. RAT RACE!!! I couldn't believe it. Sure, I saw the ads when the film came out. There were all kinds of people in this big-budget comedy, but I just didn't think it could follow through. I even wondered why John Cleese would bother with such a flick.

Well, upon viewing the disc myself, I must confess that this film hits many of its targets. You've got a crazy race, with all kinds of people trying to get from Las Vegas to Silver City New Mexico to claim a prize. Every possible kind of wackiness ensues. There are real laugh out-loud bits in what is mostly a slap-stick movie, from Airplane! director Jerry Zucker. There isn't a whole lot of depth here. You can watch this movie with your grandfather and you'll both laugh as hard. Any similarity to the Cannon Ball Run is purely intentional.

And how about that cast? First of all, you've got John Cleese, with scary skeleton teeth in. He organizes the race, and then hosts a number of big-wigs that bet on the race.. Then, you have the participants: Whoopi Goldberg, John Lovitz, Seth Greene, Cuba Gooding Jr., and Rowan Atkinson are just a few. Cuba Gooding Jr. has some funny moments with a bunch of Lucy look-alikes. Atkinson is his always-funny self. I found the John Lovitz story to be absolutely priceless. Cleese's stuff, with lawyer Dave Thomas, is quite rich.

Could it be funnier? Of course. If you missed this picture at the theater, then you're smart. It's a rental. Not a great rental, but an entertaining evening if you're getting sick of Skate-gate, or watching team Canada lose to the Swedes (ouch!).

The video on the disc is a surprising 2.35:1 anamorphic. Comedy tends to be presented in 1.85:1, but the wider aspect ratio is welcome. Much of the film takes place outside, so the extra width is filled with some great scenery. This is a big-budget comedy, so you should expect a very pretty, expensive-looking film. The DVD is well produced, so it delivers a great transfer.

The Dolby Digital surround track, while not the most active, contains plenty of split-surround effects. There's lots of action on the screen, and the surround mix represents that action quite well. I found this a much more active mix than is present on most comedy discs.

There are some really funny extras. First off, I should mention the animated menus that show a different actor from the film whenever you make a selection. The menus are in an interesting animated form, similar to the film's credits. The style is a cross between Terry Gilliam's stuff and the poster for Animal House. A peculiar inclusion, that's quite interesting, is the series of phone calls from Jerry Zucker and writer Andy Breckman to the actors. A collection of deleted scenes and out-takes are also present. I was hoping for more out-take gems from this awesome cast, but it's standard fare. There's also a great "the giggles" feature where Seth Greene is laughing uncontrollably. You have a making-of featurette, and an interview with Zucker.
Please help support our site by buying this DVD title through this link. Thank you kindly.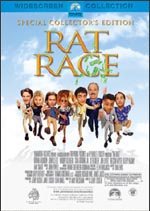 Purchase This DVD
Story / Content



Audio



Video



Extras