REAL GENIUS
Reviewed May 25th, 2002 by John Randall
"Was it a dream where you were where you see yourself standing in sort of sun-god robes on a pyramid, with a thousand naked women screaming and throwing little pickles at you?"

I have to admit - I am a sucker for this film. It is one of my all time favorite 80's movies and I have seen it countless times. The good thing - it is now on DVD - and I got to see it for the first time (for me) in widescreen.

The story is basically about a 15 year old whiz kid named Mitch who goes off to a college where many of the top minds in the country are. Mitch is sent there to work on a top-secret laser project. Along the way, Mitch meets some very interesting characters and tries to adapt to college life. He even gets a girl four years older than him – not too shabby.

Val Kilmer is the real star of the film in which he plays Chris Knight – a senior about to graduate who is more of a slacker now than we he went to college. Mitch and Chris team up to complete the laser project only to learn that it is a killing machine the government has been working on.

William Atherton is also in the film as Dr. Hathaway. You might remember him in Ghostbusters and Die Hard.

This is one humorous film to say the very least about it. Who could really forget classic lines like "What about that time I found you naked with that bowl of Jello?" or "Your mother puts license plates in your underwear? How do you sit?"

The video for this DVD release is presented in 2.35:1 anamorphic widescreen and a pan & scan version is available on the other side of the disc. Having finally seen the widescreen version - I am even more of a fan of the movie. There are some little things that you miss by watching the common pan & scan version on cable TV. The image is quite good and never looked better.

The audio is presented in Dolby Digital 2.0 and generally is a better 2.0 mix that I have heard. I would have loved to have heard a remixed 5.1 soundtrack, but alas not this time around. Dialogue sounds just fine and the few musical numbers sound better than I have ever heard before.

Ok, what the hell happened with the extras? There are none for the movie at all. All that is included is two trailers for Jumanji and Hook. A major disappointment. Maybe a special edition next year by chance? This is quite mind blowing – not even a trailer for Real Genius?

Even with a lack of any real extras or a 5.1 remix, the film really does shine and it is easy to recommend for a lazy Saturday afternoon. Just watch it in widescreen.
Please help support our site by buying this DVD title through this link. Thank you kindly.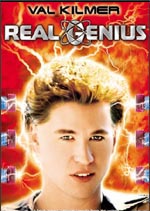 Purchase This DVD
Story / Content



Audio



Video



Extras