REM: PERFECT SQUARE
Reviewed April 9th, 2004 by Brian White
What is the deal with the music industry these days? R.E.M, who rose to the mainstream after a steady climb through college radio, released two albums around the millennium that saw the band at the top of their form. Up and Reveal are classics that rival or surpass hit albums like Monster and Automatic for the People in terms of song writing quality. For some reason, these albums sold quite poorly, compared to previous efforts. Is the record company to blame? Has their audience just grown up and have better things to do than buy new albums? For sure, a bunch of 30 and 40-somethings are not downloading these new records from the web. It seems that R.E.M. are doing everything they should on their side, so the relative lack of success of their later albums leaves one scratching one's head.

Compounding the frustration at the shrinking audience is the fact that R.E.M. puts on such a fantastic show. As great as their recent albums have been, hearing the music played live brings the material to a new height. This is still a working band, ladies and gentlemen. They are playing new music, although some may argue that "Bad Day" is somewhat familiar. How does one play new music on a tour promoting a greatest hits record? It's all in the selection. Sure, they can play "Stand" earlier hits to ignite the crowd. While there are plenty of hits to be heard in this show, there are smaller gems that send the performance over the top. Listen to "Walk Unafraid." Listen to "Daysleeper."

Performed on the bowling green in Wiesbaden Germany, Perfect square is a beautifully filmed show. The band and appreciative audience are captured very well. While this does not match the live experience, this video is well produced, and there are plenty of chills to be had.

Unlike the Road Movie DVD from the Monster tour, Perfect Square is presented in 16x9, which I'll assume is 1.77:1. With any luck, this show was captured with high-def video, so we'll have the opportunity to repurchase it in a couple of years. Colors and details are really good. The local is really quite striking, and the director Julia Knowles does her best to present that to us. The set is quite interesting, if not a bit too interesting, so there is plenty to look at.

For sound, there's a great 5.1 Dolby Digital mix on the show. Basically, the show sounds great, and the mix spreads the sound out, rather than being gimmicky or putting just the audience behind you.

This is a great R.E.M. performance, and a great setlist:

Begin the Begin
What's the Frequency, Kenneth?
Maps and Legends
Drive
Animal
Daysleeper
The Great Beyond
Bad Day
The One I Love
All the Way to Reno
Orange Crush
Losing My Religion
At My Most Beautiful
Electrolite
She Just Wants to Be
Walk Unafraid
Man on the Moon
Everybody Hurts
So Fast, So Numb
Country Feedback
Permanent Vacation
Imitation of Life
It's the End of the World as we Know it (And I Feel Fine).

For extras, there's a great documentary called A Stirling Performance that deals with R.E.M.'s 1999 visit to a small town in Scotland. In an attempt to get off the beaten path, REM plays at a lovely castle that has never hosted an event of this scale. Here we see plenty of footage of a town getting ready for a huge event, we see the multitudes descend upon the town, and the craziness during the three shows. There is a little concert footage, but for the most part, the film captures the town's reaction to the event. There's a great little bit with the local police enjoying tea brought out by residents who live near the venue.

If you've ever liked R.E.M, check out this great DVD.

Please help support our site by buying this DVD title through this link. Thank you kindly.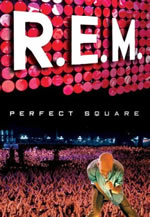 Purchase This DVD

Purchase Promo Poster

Story / Content



Audio



Video



Extras