R.E.M. ROAD MOVIE
Reviewed October 17th, 1999 by Staff
R.E.M. Road Movie is an excellent document of one of the greatest American bands at the peak of their popularity. The disc contains interwoven footage from the last two shows on the Band's 1995 Monster Tour. Road Movie shows R.E.M. finally home in Athens, after surviving illness and near death experiences on the world tour. Fans can view the complete band, perhaps for the last time; as drummer Bill Berry left the band before their current album and tour. due to a brain aneurysm suffered on the Monster Tour.

R.E.M. fans will rejoice at the fantastic performance. Potential fans should consider Road Movie required viewing. Each member of R.E.M., particularly enigmatic singer Michael Stipe, displays the confidence of a band with several months of practice behind it. Stipe is at his ultra-weirdo best, the rest of the band stays out of his way. The set features several songs from New Adventures in High Fi, an album which the band recorded on the Monster Tour; hits from Monster and Out of Time; a song from Green; and two from Document. The concert, and tour, are perfectly extinguished with a chaotic take of It's the End of the World as We Know It (and I Feel Fine).

The staging for the show is unique. Random images are projected onto transparent screens, or scrims which move into, and out of position throughout the performance. The band is often filmed behind a screen, and thus through the projection.

Song Selection:

· I Took Your Name
· What's the Frequency, Kenneth?
· Crush With Eyeliner
· Undertow
· The Wake-up Bomb
· Revolution
· Losing My Religion
· Binky the Doormat
· Orange Crush
· Strange Currencies
· Tongue
· Man On The Moon
· Country Feedback
· Find The River
· The One I Love
· Star 69
· Let Me In
· Everybody Hurts
· It's The End OF the World As We Know It (And I Feel Fine).

The disc looks very good, although it's presented in full frame, 1.33:1 aspect ratio. There are excellent color and detail throughout.

For some reason, the sound is only Dolby Surround. While the sound recording is quite good, this is a rather noisy mix, blemished by crowd noises and echo. With any luck the video for the Up tour, if one materializes, will feature a 5.1 mix with the crowd in the back.

Scene selection on DVDs should not be considered a special feature. However, for a concert it comes in quite handy. If this were a VHS tape, you'd be constantly rewinding and fast forwarding to get to the good stuff. DVD concert videos rule!! Also included are sub-titles meant for the hard of hearing ("audience applauds," "...starts playing guitar.") which include all lyrics. For once you can figure out what Captain Murmur's singing.
Please help support our site by buying this DVD title through this link. Thank you kindly.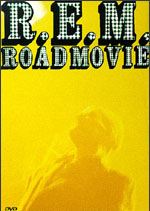 Purchase This DVD
Story / Content



Audio



Video



Extras