REQUIEM FOR A DREAM (UNRATED)
Reviewed May 27th, 2001 by John Randall
Ok, this is one of those movies that are very hard to describe. A word of caution is needed: this movie WILL disturb some people. This is really an abnormal type of story and filmmaking - however, those who are into the strange or artsy side of film, are going to really love it!

The theme behind the movie is mostly addiction. Addiction to drugs to be more precise; those that are illegal and the abuse of prescription drugs.

Harry (Jared Letto), Tyrone (Marlon Wayans) and Marianne (the wonderful Jennifer Connelly) are the center point of the story. They are all friends - they are all addicts. On the other side you have Harry's mother Sara (Ellen Burstyn) who starts down the wrong path of her own.

I really am not going to go into any more of the plot than this. I purposely closed my ears to many aspects of the controversial film till I could see it for myself. It was worth the wait to see it first hand.

The video is presented in 1.85:1 anamorphic widescreen and is really good. The director uses different kinds of shadowing and other filming techniques to make the movie look unique and the DVD shows them off brilliantly.

The audio is presented Dolby Digital 5.1 and will rock your house. Sounds often come out of every channel putting you right in the middle of it all. This will be one to show off to your friends.

Extras include two audio commentaries, a documentary, nine deleted scenes, production notes, trailers and more.

This is a very unique movie with some very fine acting in it. The story really is unusual to say the very least. The film is also being released in a R rated version - skip it - this is the one to buy.
Please help support our site by buying this DVD title through this link. Thank you kindly.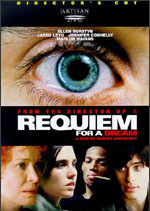 Purchase This DVD

Title Has Easter Eggs

Story / Content



Audio



Video



Extras