RESERVOIR DOGS (10TH ANNIVERSARY EDITION)
Reviewed August 8th, 2002 by John Randall
"I don't give a good fuck what you know or don't know - I'm going to torture you anyway..."

What an excellent film. It is very hard not to curse when trying to review a film like this one. Reservoir Dogs is certainly one of those flicks you have to have an acquired taste for. Fans of the film totally dig the classic lines – and then on the other side - people just flat out hate it. They think its vulgar, disgusting, etc. And the beauty of it - it is all those things and so much more.

Quentin Tarantino is the man. You most likely remember him best for Pulp Fiction, but this was the film that started it all for him. In fact, Reservoir Dogs was his first film role as well – though a small one. Quentin also wrote and directed this tale of a burglary that goes very wrong.

The basic story is about a group of crooks who are brought together to steal some diamonds, and the burglary turns sour when a ton of cops show up. That's it – that simple. The film is about what happens before the robbery and soon after in a variety of flashbacks.

The film opens with a group of guys sitting in a diner having a conversation. Right from the start you know something is a bit off as almost everyone is dressed just alike and no one is using their first name.

Actually, the crooks use interesting colorful code names like Mr. White (Harvey Keitel), Mr. Blonde (Michael Madison), Mr. Pink (Steve Buscemi), Mr. Orange (Tim Roth), Mr. Blue (Edward Bunker) and lastly Mr. Brown (Quentin Tarantino).

The story is very straightforward even though it is out of sequence. It does not have many characters to try and remember, and does not even have many locations to keep track of. Unfortunately, you do not even get to see the actual robbery – but what makes this film so addicting, is Quentin's ability to write some of the best dialogue ever captured in film.

Who could ever forget classic lines like:
Mr. Brown: OK, let me tell you what 'Like a Virgin' is about. It's all about this cooze who's a regular fuck machine, I'm talking morning, day, night, afternoon, dick, dick, dick, dick, dick, dick, dick, dick, dick…

Mr. Blue: How many dicks is that?

Mr. White: A lot...
Or how about:
Nice Guy Eddie: If you fucking beat this prick long enough, he'll tell you he started the goddamn Chicago fire, now that don't necessarily make it fucking so!!!
Artisan has done a great job with this new 10th Anniversary two-disc release. In fact, they have gone all out and have released the DVD with five different covers displaying a different character on each: Mr. White, Mr. Blond, Mr. Brown, Mr. Pink and Mr. Orange. Each cover includes an accompanying booklet. Also, for some bizarre reason, they have also released a box set with four of the DVDs and their covers (no Mr. Brown) – all the discs have the same exact content (might want to skip out on that one).

The film is presented in 2.35:1 anamorphic widescreen on the first disc and never has looked better. Some might say it has some weird color problem (not as vibrant) when comparing it to the old release, but I think the problem more lies with the old release being over saturated. The image is still rather stunning - sharpness and detail are right on - and there is no grain at all. For a low budget film, it's surprising to see how strong this transfer is. For some odd reason, a full screen version is also available for viewing on the second disc.

The audio is presented in DTS and Dolby Digital 5.1. Both tracks are excellent. This is more of a dialogue-driven film so most of the sound is heard through the front speakers. The surrounds are used mostly for background noise and LFE is pretty tame. An English Dolby Digital 2.0 track is also provided. Also note that the DTS track is not available on the second disc which contains the full screen version.

This special edition has almost too many extras if you can believe it. Starting on disc one, there is a commentary track by Quentin Tarantino, producer Lawrence Bender, executive producer Monte Hellman, director of photography Andrzej Sekula, editor Sally Menke, and actors Tim Roth, Chris Penn, Michael Madsen, and Kirk Baltz. Great commentary track with lots of great insight.

What would a special edition be without numerous amounts of interviews? Well, if you love them – you are gonna love this set. There are just tons of them. Starting it off is 55 minutes of various cast members and some of the filmmakers in all new interviews. Chris Penn, Kirk Baltz, Michael Madsen, Lawrence Bender, Tim Roth and even Quentin Tarantino take turns spilling the beans about making the film.

Next up on this disc is the deleted and alternate scenes section which runs about 12 minutes in total. Included are three deleted scenes entitled "Background Check" which is Tim Roth checking out mugshots looking for Mr. White and then discussing with others, "No Protection" which is Tim Roth discussing the police plan of action, and "Doing My Job" which takes place during the car ride back from getting the stashed diamonds with Chris Penn, Steve Buscemi and Harvey Keitel. Fans of Pulp Fiction will enjoy the original nurse 'Bonnie Situation'. That last one was the most enjoyable to watch for that very reason. Rounding off extra scenes are two alternative takes (A & B) of the infamous "Ear" scene. The B version is an extreme close up and you can actual see it being sawed off – however it just plain looks fake.

Lastly to end disc one is the theatrical trailer.

Disc two starts off with a section called "Critics Commentary" which is basically some individuals from like Rolling Stone and other publications doing commentary over some of the scenes from the film. Basically Amy Taubin talks for 22 minutes, Peter Travors talks for 28 minutes, and Emanuel Levy for 33 minutes. You might enjoy what they think.

Next up is "K-Billy Radio" which is a bit confusing at first. You see an old car stereo with five buttons. If you choose buttons 1, 2 or 3 you will hear a variety of audio – one is an interview and the rest are things you heard on the radio during the movie w/ outtakes. Button 4 is not selectable and if you choose button 5 you are in for a real treat (I guess): you get to see "Reservoir Dolls", the entire "Ear" scene reenacted using action figures. In fact, you can follow along with the real footage, which is shown in a small box on the upper left side of the screen. Different…

The next section on the menu is for "Class of 92" which is all about the Sundance Film Festival. First up is something called "1992 Sundance" which is a 29 minute retrospective look at when the film hit Sundance. These are basically more interviews but it was interesting to hear Quentin's story about the power failure that happened near the end of the showing. Also included is something called "Sundance Institute's Filmmaker's Lab" which is 11 minutes of what looks like rough video tape footage of Steve Buscemi and Quentin Tarantino (who plays Mr. White this time around) acting out certain scenes from the movie. The video tape quality makes it look more like a soap opera.

What would a 10 year anniversary be without tons of tributes and dedications? Well, the next section is just about that. Indeed called "Tributes and Dedications" no less, this is 51 minutes of various people talking about important people who made the film. Quentin also describes how his screenplay originally had all these dedications on it and was going to include it in the opening credits. He explains why he did not put it on the film and also discusses why each of those people inspired him.

We're not done yet… The next section is called "The Film Noir Web" with a submenu for "Writers and Directors" which is basically is 8 minutes of footage and massive amounts of text you can read about different writers, directors and films that helped make this genre of films what it is today. Some of what they talked about is a bit confusing. Simple fans just might want to skip this section as it really has nothing to do with the film itself.

After clicking on the more icon, you'll be treated to a new screen of extras – but alas there is very little substance. There is a 4 minute featurette called "Small Dogs" which is basically a documentary about the Reservoir Dogs action figures. There is also a feature called "Securing the Shot: Location Scouting With Billy Fox" which is another 4 minutes of photos of the different locations with commentary.

A very quick 20 second feature called "Reservoir Dogs Style Guide" looks more like a simple commercial with very short clips of the film with music and words such as 'Dressing In Style', 'Dining In Style', Bleeding In Style", "Killing In Style" and others.

Lastly on this page is a "Poster Gallery" where you can select one of three theatrical posters to enlarge.

The final extra (if you call it that) on disc 2 is a little option in the audio menu. You will see a JVC logo, go over and highlight it and you can watch a JVC commercial for DVD Audio.

Yes, this film has a ton of cursing, brutal violence, removal of body parts, a person in a car's trunk, blood everywhere - but it has some really funny moments. Reservoir Dogs is one fine American classic film that is highly recommended – and so is this DVD set.
Please help support our site by buying this DVD title through this link. Thank you kindly.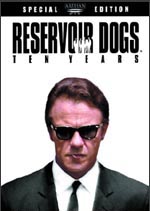 Purchase This DVD

Purchase Promo Poster


Title Has Easter Eggs

Story / Content



Audio



Video



Extras