RESIDENT EVIL
Reviewed July 28th, 2002 by John Randall
What a strange film. Resident Evil is semi-based on the popular video game of the same name – however, since I never played the original game, I came into the film with no knowledge of how the game and film compare. I am thinking though that if the game is as cool as this film could have been – I bet it is a real treat.

The film's plot is a little confusing. We find out that a laboratory of some sort has some biohazard material and something kills all of its occupants. Next, we cut to a woman (Milla Jovovich) who awakens after falling in the shower – with no memory of who she is or where she is. She is in a strange house and some military type people come crashing in. We are led down to a basement and a train – with no idea of what is really going on. Later we find out that the train takes people to a secret laboratory deep underground that is hosting a variety of genetic experiments. Slowly as Jovovich regains her memory and as the story progresses, the film is pretty straightforward.

Lots of zombies and evil creatures are down in the laboratory, there is lots of blood and butt kicking action, guns, talking computers and more. This really is a science fiction / horror film. It is a weird film but a pretty entertaining one.

The video is presented in 1.85:1 anamorphic widescreen and looks quite excellent – one of the best transfers this year from any studio. There is some grain throughout the film, but it does not appear to be a transfer problem. Blacks and colors look great, but with the film's variety of "looks" its hard to tell sometimes if some things look "off" sometimes.

The audio is presented in Dolby Digital 5.1 in English and there is also a 5.1 French track. This soundtrack is more incredible than the video. There is plenty of LFE bass that is rockin and massive amounts of surround uses. To sum it up easily – this is one hell of a mix.

There are pretty good extras on the disc too. First off is a great commentary track by the director, the producer, actor Milla Jovovich, and actor Michelle Rodriquez. Mostly the track is small talk and not really about the making of the film. Instead, it is mostly about little funny things that happened on the set.

The disc also has many different featurettes: "The Making of Resident Evil" is a 30 minute behind the scenes look at the film with interviews. Next is "Scoring Resident Evil" with a look at the music behind the movie (Marilyn Manson fans will love this).

Next are three short featurettes called "Set Design", "Zombie Makeup Tests", and "Costumes". None of the featurettes were that outstanding, but there is almost an hour of stuff fans will most likely enjoy.

Lastly, there is a music video by Slipknot called "My Plague", a bunch of trailers, and some filmographies.

Overall, this was a fun film for something like a lazy Sunday afternoon. It is a bit confusing at first, but if you like a good zombie shoot-em-up flick – then this is good rental choice for ya.
Please help support our site by buying this DVD title through this link. Thank you kindly.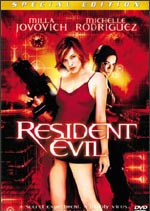 Purchase This DVD

Purchase Promo Poster

Story / Content



Audio



Video



Extras