RIDE WITH THE DEVIL
Reviewed June 24th, 2002 by David Nusair
Though itís pace is slower than molasses, Ride with the Devil becomes unexpectedly watchable due mostly to the above-average performances from Tobey Maguire, Jeffrey Wright and even Jewel (in her film debut).

Set during the American civil war, the movie opens with a group of friends initially unwilling to join the rebellion. But as events progress, each member of the ragtag group finds they have personal reasons for taking up the fight. The makeshift posse (which includes Maguire, Skeet Ulrich, Simon Baker and Wright as his slave) find themselves traveling to where ever theyíre needed. They eventually wind up settled (for a while, anyway) in a bunker near a friendly familyís house (a household which includes the fetching Jewel). Ulrich and Jewel are quick to begin a relationship, but the two donít remain a couple for long due to tragedy. Maguire unwittingly finds himself paired with the woman, and the film becomes part unlikely romance and part war epic.

Itís no surprise that Ride with the Devilís been directed by Ang Lee, best known for his genre-hopping hit Crouching Tiger, Hidden Dragon. Like that film, Ride with the Devil isnít content to be just an examination of the civil war; instead, itís more about regular people that just so happen to get caught up in the whole thing. But initially, the film takes a more conventional approach to the material, and lobs action sequences at us without bothering to give the characters a proper introduction. For a while there, itís nearly impossible to discern the various soldiers from one another. But when the troupe finally settles down in that bunker Ė and Baker and Wright are introduced Ė the movie finally becomes interesting.

Maguire, an Ang Lee veteran (he was in The Ice Storm), proves that heís the sort of actor who can play virtually any role. Heís a leading man with the tendencies of a character actor. He makes the transition from easy-going youth to hardened soldier believable, and his late-in-the-film romance with Jewel is surprisingly effective. Among the supporting cast, Wright is a clear standout as the wiser-than-he-appears slave. Wrightís the sort of actor that never gives the same performance twice, choosing instead to disappear inside his characters (indeed, this is the very reason I thought I hated the actor after his performance as the unappealing Basquiat, in the movie of the same name). And Jewel, in her much lauded film debut, isnít terrible. She always seems slightly apprehensive, as if sheís frightened to give in completely to the role, but she certainly fares better than the majority of singers-turned-actors (in one movie, sheís shown more skill and more promise than Madonna has since she started acting nearly 20 years ago).

Fans of Ang Lee will probably get more out of Ride with the Devil than most, but the film still manages to entertain. The running time is far too long, but the performances make it worth checking out.

Audio: Though it doesnít really compare with something like Terminator 2, this DD 5.1 soundtrack is still quite impressive. The various action sequences fare well, with sound emanating from all surround channels. Quieter scenes, of course, keep the front speakers active, but all in all, this is a good sounding track.

Even better is the 2.35:1 anamorphically enhanced transfer. Though it is a little soft (which is probably what Lee intended), this is a crystal clear transfer. Colors are extremely vibrant, and thereís no bleeding.

Extras: Not much. A trailer, a Jewel music video, and some cast/crew filmographies and production notes.

Conclusion: Ride with the Devil may be worth a look now that Maguire is a huge star...
Please help support our site by buying this DVD title through this link. Thank you kindly.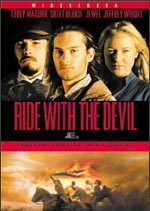 Purchase This DVD
Story / Content



Audio



Video



Extras