RIDING IN CARS WITH BOYS
Reviewed May 12th, 2002 by David Nusair
Riding in Cars with Boys is the latest film from actress-turned-director Penny Marshall, and while it doesn't offer any great shakes in terms of plot, the performances make it a cut above most similar films.

Drew Barrymore stars as Beverly Donofrio, a role that requires her to age from 15 to 36 – and she manages to pull it off effectively. The film opens with Donofrio as a little girl (and played by Mika Boorem), with a strong sense of her sexuality already in place. How strong? She asks her father (James Woods) to buy her a training bra for Christmas. We quickly progress to Donofrio's teen years, and though she has her sights set on a handsome jock, she winds up with a strange young man named Ray (Steve Zahn). Soon, she's pregnant (coincidentally at the same time as her best friend – played by Brittany Murphy) and after a few ill-fated attempts at losing the baby, she grows to accept the idea. But she's thrown a curve-ball when she winds up with a little boy, and not the girl she always wanted. Her resentment of the kid will be a constant theme in her life, which now progresses all the way to her mid-30s.

Riding in Cars with Boys is an entertaining enough chick flick, though it never breaks any new ground or surprises us with its story. In fact, the most astounding thing about the movie is probably that it got made at all. Beverly Donofrio lived an average life – she never invented the cure for something or saved a baby in a well – and in fact, she's pretty much the opposite of a good mother. She doesn't exactly hate her kid, but it's quite clear that she never wanted to have a child and hence never really bothers to form any kind of bond with him. The two wind up with the sort of relationship that's all-too-commonplace nowadays, with the kid acting as the parental figure and vice versa. Still, the episodic nature of the screenplay provides enough interest (by providing Barrymore's character with a variety of obstacles) to merit a viewing.

Really, though, this is a flick that boils down to performances. Without decent acting, the inconsequential nature of the storyline would have been far more apparent than it actually is. Of course, this is Barrymore's show. She's made to run the gamut of emotions as Donofrio (not to mention her surprisingly effective transformation from gawky teenager to confident adult), and never strikes a false note. There's no question that this is her best performance to date, and should provide her the opportunity to play something other than would-be action star or romantic lead. The supporting cast is equally impressive, with Brittany Murphy the obvious standout. 2001 was certainly her year, what with her breakout performance in Don't Say a Word, but she's just as good here. As Donofrio's slightly flighty friend, Murphy provides much of the comic relief in the film and (though her role adds up to no more than 20 minutes of screentime) creates a character that we almost wish were the focus of the movie.

Riding in Cars with Boys is a standard coming-of-age flick that doesn't really contain any big surprises, but with a cast this effective, it's hard to complain.

Audio: Riding in Cars with Boys is presented with a DD 5.1 soundtrack and it's solid. Not surprisingly, this is a flick with little use for surround sounds, and the disc reflects that. However, the ample dialogue is always crisp and clear, and the musical score is never intrusive.

Video: On the other hand, this transfer is pretty much amazing. Presented anamorphically at a ratio of 1:85:1, it's as good as it gets. It's completely free of any film grain or DVD artifacting, and the colors here are amazing. This is a movie with a wide variety of looks, from the grungy house Beverly lives in to the brightly lit town she grows up in, this is a movie that needed an effective DVD.

Extras: First up is a commentary track with Drew Barrymore. Not surprisingly, she spends a good portion of this track talking about the character of Beverly Donofrio and why she was drawn to the part. There are few dull spots, and Barrymore proves to be quite an enthusiastic speaker.

Next up are four featurettes, starting with "Drew's Trailer Tour" – running around four minutes. This isn't really a trailer tour as much as it's an exploration of Barrymore's relationship with the real-life Donofrio. We learn how well they got along, and how Barrymore would listen to different records based on a particular scene in preparation. Next is "Bev and Ray's House: Recreating Reality," which details the process of building the house the majority of the film takes place in, along with its neighborhood. Running around three minutes, it barely scratches the surface but it was interesting to learn that the entire neighborhood in the film was built from scratch. Next is "The Cars," featuring a look at the various cars showcased in the film. James Woods is present for the majority of this three minute featurette, dressed in costume and asking the car wrangler questions about the automobiles that were used. Interesting, but again, too short. Finally, there's "Beverly and Jason: Sons and Lovers" which runs around 4 minutes. This is a further explanation of the real-life relationship of Beverly and Jason, with the actual people commenting on their lives.

Rounding out the disc are a 22-minute HBO special on the making of the movie (this is the usual self-congratulatory thing; not much info here), three trailers (Riding in Cars with Boys, A League of their Own, and Charlie's Angels) and production notes (not on the disc, though; in the booklet).

Conclusion: Riding in Cars with Boys is enjoyable enough to warrant a rental, so check it out.
Please help support our site by buying this DVD title through this link. Thank you kindly.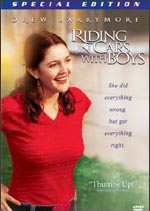 Purchase This DVD

Purchase Promo Poster

Story / Content



Audio



Video



Extras