ROAD TRIP (UNRATED VERSION)
Reviewed January 28th, 2001 by Len D. Martin
Cast: Breckin Meyer (Josh Parker), Seann William Scott (E.L.), Amy Smart (Beth) Paulo Costanzo (Rubin), DJ Qualls (Kyle Edwards), Rachel Blanchard (Tiffany Henderson), Anthony Rapp (Jacob), Fred Ward (Earl Edwards), Tom Green III (Barry) Andy Dick (Motel Clerk), Ethan Suplee (Ed), Horatio Sanz (French Toast Guy), Rhoda Griffis (Tour Group Mom), Marla Sucharetza (Sperm Bank Nurse), Ellen Albertini Dow (Grandma)

Director: Todd Phillips

Story: Four college kids from New York head on a weekend "Road Trip" to retrieve a hot video. Josh and Tiffany are in love and are pledged to each other. When the time comes for each to attend college Josh stays in Ithaca, while Tiffany heads to Texas to attend A&M. When Josh makes a hot video of him and Beth, and it accidentally gets mailed to Tiffany, Josh realizes he must retrieve the tape before Tiffany sees it. So, together with E.L, Rubin, and Kyle, they are off on their hilarious "Road Trip" to Texas.

Audio: Your choices are Dolby Digital 5.1 Surround Sound, Dolby DTS Digital 5.1 Surround Sound, and regular Surround Sound. What ever you choose you will not be disappointed.

Video: You are presented with an anamorphic widescreen presentation at an aspect ratio of 1:85.1. The color is vibrant and beautiful. No bleeding of colors could be detected.

Extras: Deleted Scenes; Behind the Scenes Featurette - "Ever Been on a Road Trip?"; The Eels Music Video - "Mr. E's Beautiful Blues"; Cast and Crew Bios; Production Notes; and for those that own a DVD-ROM - an Interactive Trivia Game and Screensaver.

Comments: This DVD is available in two versions - an Unrated! Uncensored! version and an R-Rated version. This reviewer has only seen the Unrated version and recommends it highly. Tom Green acts as narrator of this film, but I think it would have been even more fun to see him included as one of the "Road Trip" guys.
Please help support our site by buying this DVD title through this link. Thank you kindly.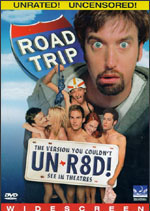 Purchase This DVD
Story / Content



Audio



Video



Extras