ROCKETEER, THE
Reviewed August 22nd, 1999 by Staff
Disney released this movie to the theaters and it did not seem to get the attention (except by children) that it most likely should have. The Rocketeer is a highly entertaining comic book like story that should keep you interested all the way to the end.

The movie stars Bill Cambell, Alan Arkin, Jennifer Connelly and Timothy Dalton.

The basic plot of the movie is that the mob steals an experimental rocket pack and the FBI wants it back. The mob guys ditch the rocket when being chased and Cliff Secord (Bill Cambell), a pilot, finds the rocket and ends up "borrowing" it for awhile hoping to make some money to pay off some debts. He eventually uses it in an emergency situation, saving a friend while flying a plain, Secord is nicknamed the "Rocketeer".

After learning that neither the mob nor the FBI has the rocket, everyone is out to find it and nothing will get in their way. The mob wants it, the FBI wants it, and eventually it is learned that the Nazi's want it as well.

People are dying, Secord's girlfriend is kidnapped, bullets are blazing - this movie has it all: Adventure, Action, Romance and Comedy.

The movie is presented in 2.35:1 widescreen format and is not 16x9 enhanced. The transfer seems a bit outdated but overall it seemed to do very well. Some of the outdoor shots seems a bit grainy and the image did not always seem to be as sharp as it could have been. Colors seemed well done and blacks on the most part were true (on a few shots it seemed some of the blacks looked gray).

Here is the real treat. On the DVD box, it is stated that the movie is presented in Dolby Surround. In Disney's press release, they stated it would be DS but later said it would be 5.0. However, there is a full DD 5.1 track on the disc. This was a wonderful surprise. Dialogue seemed very clear, and there were a few spilt surrounds that could be heard. The best thing about 5.1 versus 5.0 of course is the use of the .1 channel to give your sub a workout. During the explosions or the rocket scenes, the sub is in full effect and does a wonderful job. Though not the best 5.1 soundtrack out there, but Disney does get brownie points for putting it on the disc.

A great entertaining movie with a well done soundtrack. The movie runs 108 minutes and is rated PG.
Please help support our site by buying this DVD title through this link. Thank you kindly.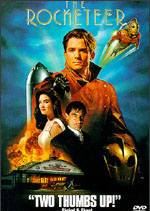 Purchase This DVD
Story / Content



Audio



Video



Extras