ROCK STAR
Reviewed February 24th, 2002 by Brian White
Hair bands! Theyíre ridiculous! Thatís why I was so entertained by this movie. The whole premise of a hair band being the center of our protagonistís life is funny. Back in junior high, all of my friends were into these bands. I remember the looks of shock and disgust when I passed on an invite to see Twisted Sister opening for Iron Maiden. This movie was a rush of nostalgia. On the other hand, if you took these bands seriously, and I know some of you did, youíll probably find this movie enjoyable as well.

For those of you who have no real entry into the hair band culture, I donít know what youíll get out of Rock Star. There is the story of a man realizing his greatest fantasy and not being satisfied. Itís almost a parable. However, Rock Star concentrates more on the guitars and the groupies than mythology and man.

Loosely following the history of Judas Priest, a British band whose lead singer left and was replaced by an American fan, Rock Star is a story about somebody realizing a dream very specifically. Mark Wahlberg plays Chris Cole, the lead singer for a Steele Dragon tribute band. Chris wonít accept any deviation in performance from what he hears on the records. To his friends, who have outgrown Chrisí devotion, this becomes too much. To his humiliation, Chris is ejected from his band.

In this pit of despair, Chris receives a call from the guitarist of the real Steele Dragon. Theyíre having lead singer problems as well, and theyíve seen a tape of Chris singing their songs. Chris is invited to an audition and he ultimately becomes what heís always wanted to be.

Of course, the silver has a cloudy lining. The Rock Star life is incongruous with Chrisí life, and his devotion to his girlfriend, played by Jennifer Aniston. Itís a grass-is-always-greener sort of thing.

Wahlberg is quite good, and his rock performance is great. Aniston acts like Rachel. All around, performances are more than adequate. The rock star life portrayed in this movie seems very believable. You also get that voyeuristic look in, similar to that in Almost Famous. You get to visit a very alien way of living in this movie.

The video on the disc is quite good. Itís 2.35:1 anamorphic. You have the disparate environments of Chrisí middle class, Pittsburgh life, compared to the opulence and color of the Rock Star life. Itís all well shot. The concert footage looks like real concert footage. All around, a good looking disc.

The audio on the disc is also quite good. The Dolby Digital 5.1 surround mix gives the head-banginí fare plenty of kick. The movie features all kinds of hair band tunage from the time. Thereís Bon Jovi, and Def Leppard. It all sounds pretty good.

The disc is a little thin in the extras department, but I really enjoyed the commentary from director Stephen Herek. This looks like it must have been a fun movie to make. There are funny stories about locations, and the solution to tight-pants always ripping. Also included is a little behind-the-scenes bit, and a blast to DVDís past: actor bios!
Please help support our site by buying this DVD title through this link. Thank you kindly.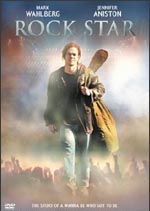 Purchase This DVD
Story / Content



Audio



Video



Extras