ROCKY (SPECIAL EDITION)
Reviewed April 10th, 2001 by John Randall
"I'm the king of the world" - ooooops, wrong movie! Now days I picture Rocky standing up with his fists in the air saying that for some odd reason. Some lasting impressions in films are just plain wrong.

Most movie lovers out there have seen this 1976 gem of a movie already. You have Sylvester Stallone who plays small time boxer Rocky Balboa. Rocky goes up against Carl Weathers who plays Apollo Creed, the heavyweight champ. The fight is more of a publicity stunt and Apollo is of course going to win - right? Rocky, however, sees this as his one true shot to make something wonderful out of his life.

When mentioning this film, you can't forget about Adrian, the young pet-shop lady that Rocky falls for or the late great Burgess Meredith who plays Rocky's trainer Mickey.

This movie is truly a classic story of David and Goliath of sorts - a man versus his dreams. The acting and the script are both very well done. Cudos to Stallone for his wonderful screenplay.

The video is presented in 1.85:1 anamorphic widescreen and was just ok. Image quality seems very soft, but colors do seem dead on.

The audio is presented in Dolby Digital 5.1 and does ok as well, but nothing to write home about. The original mono soundtrack is also provided on the disc.

Extra on the new special edition include an audio commentary with some of the cast and crew, an interview with Sylvester Stallone, a couple of tributes to Burgess Meredith and cinematographer James Crabe, a behind-the-scenes featurette, trailers and more.

The disc may have been the best it could have been do to the age of the film, but the disc was rather disappointing. However fans will still love the movie and want the films on DVD. A box set of all the Rocky films including this special edition is also available.
Please help support our site by buying this DVD title through this link. Thank you kindly.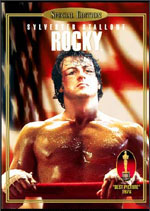 Purchase This DVD

Title Has Easter Eggs

Story / Content



Audio



Video



Extras