WHO FRAMED ROGER RABBIT
Reviewed September 29th, 1999 by Staff
The movie was a mix of live actors and animation. Released by Touchstone, the movie went on to win 4 Academy Awards. It wasn't the first time live action and animation was done (even Mary Poppins had that), but it was done with amazing fashion - all the way down to the animations having shadows. The movie was directed by Robert Zemeckis and was executivly produced by Steven Spielberg.

Cartoons are alive in the real world. They walk, talk, drink, drive, yell, curse, etc. You may recognize a few of them like: Mickey Mouse, Tweety Bird, Donald Duck, and lots more.

A detective (played by Bob Haskins) is hired to follow the wife of actor "Roger Rabbit" (a cartoon no less) to see if she is cheating on him. Jessica, his wife, did indeed seem to be cheating on him and the detective gets pictures of the act. The only problem is, Jessica is cheating on Roger with Acme, the owner of "Toon Town" who ends up being murdered and Roger is the number one suspect. Will Roger be hunted down and killed? Will Roger save the day? Watch out for a great performance by Bob Haskins and also Christopher Lloyd who plays Judge Doom.

Parents need to be cautioned. The movie is rated PG, but there is some adult language and some situations that might be intense for younger viewers and there are some scenes and jokes that are sexually oriented.

Buena Vista has done a marvelous job in brining this movie to DVD. There has been a lot of negative comments about Disney's choice to edit the movie. However, we are given a very good copy of the film.

We are presented with a disc that is in widescreen (1.85:1) format and is not enhanced for 16x9 televisions. The image overall is clear but not as sharp as newer movies. The movie seems a little dark at times throughout the movie and colors are not extremely vibrant, but they do ok. The image shows no signs of any compression problems.

Also included on the disc is a 5.1 soundtrack. Dialogue and music seem clear, however, this will not give your subwoofer a good workout and there are hardly any split surrounds that could be heard.

There are no special features on this disc. However, if you're a fan of the movie - you won't be too disappointed. The movie is rated PG and runs 104 minutes.
Please help support our site by buying this DVD title through this link. Thank you kindly.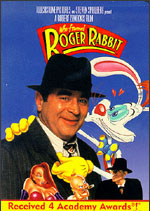 Purchase This DVD
Story / Content



Audio



Video



Extras