WILLIAM SHAKESPEARE'S ROMEO AND JULIET: SPECIAL EDITION
Reviewed March 31st, 2002 by Brian White
Don't you love it when they put out a better version of a rather poor DVD release? I bet you bought Amadeus. Well, that sad flipper is being replaced by a swanky double-disc special edition later this year. Fox wasn't the most enthusiastic studio, in terms of their early support of the DVD format. As a result, we got some rather ordinary releases of their films. One of these ordinary releases was Baz Luhrmann's modernized Romeo and Juliet. What made this edition seem so ordinary was the magnificent laser disc that Fox released not two years before. This was one of those great, latter-day laser discs with a commentary, featurette, Dolby Digital sound and THX-approved transfer. Certainly for its format, it was very good. The DVD release had Dolby Digital sound, but little else. The non-anamorphic transfer seemed a great injustice for a film with such beauty and impact. Given the success of Moulin Rouge, Luhrmann's past films have been given the special edition treatment. Romeo and Juliet on DVD finally surpasses the laser disc.

What's to be said about the movie? Given that Luhrmann probably won't read this (and clearly needs no more compliments), I'll gush about the work of absolute genius that is this film. Taking a chance, and after Moulin Rouge, I'm sensing a great pattern here, Luhrmann decided to place Romeo and Juliet in a modernized world. This is not reality; it is a very stylized modernized world. Ultimately, it comes across as Shakespeare meets Tarantino; and it works! Baz pulls the whole thing off. This movie is a feast for the eyes, and I dare say it's better than Zepherelli's take on the play in the sixties. Certainly, there's more Shakespeare here. I think this is Luhrmann's best film. Moulin Rouge is more ambitious, but this film works throughout, is tight, and never loses steam.

I must also mention the fantastic performances by both Leonardo DiCaprio and Claire Danes in these very difficult roles. The cast is rich, and talented. This is a high-quality production in every sense.

The 2.35:1, anamorphic transfer is very good. Romeo and Juliet is a beautifully designed and shot film. The quality is captured very well on this DVD. The many colors are great. There is a hint of grain, and perhaps some softness, but nothing unforgivable.

One good thing about the previous DVD was the Dolby Digital 5.1 mix. I can't really tell the difference here, and thus cannot say if this is a new mix. The dream-like quality of the film is often enhanced by surround effects, like a tinkling noise when fireworks are on the screen. The fireworks surround the viewer and draw him or her in. This surround mix is used to great effect.

Where this special edition really shines, though I was happy with an anamorphic transfer, is in the generous list of extras. This DVD boasts a new feature-length commentary with Luhrmann, recent Academy Award winning production designer Catherine Martin, Director of photography Don McAlpine, and co-screenwriter Craig Pearce. Strangely enough, many participants contributed to a commentary on the laser disc. That commentary was great, but this is better as they are recorded together. The new commentary is a little less technical, and more anecdotal.

Another special feature is a series of short featurettes about shooting key and difficult scenes are included. There is a section for the director and another section of featurettes for the director of photography. Included in the director's footage is the "workshop" videotape footage the Luhrmann shot with DiCaprio to convince the studio that the concept could work. In the Director of Photography's section is the interesting bit where they shot the 360-degree pan around the stars in a small elevator. Movie making at its best. There is a series of production design stills, which shows the evolution of the film's look. The disc also contains cast and crew interviews, a bit where Martin narrates some production stills, music videos, promotional material and some DVD ROM content. The menus are very cool, and seem to have been done in the style of Moulin Rouge. If you're on a Baz Luhrmann ego watch, there's a picture of him on one of the menus.
Please help support our site by buying this DVD title through this link. Thank you kindly.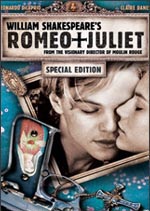 Purchase This DVD
Story / Content



Audio



Video



Extras