ROMEO MUST DIE
Reviewed July 31st, 2000 by John Randall
What could have been a pretty dull story with some great action ended up being a great action movie with some actually good acting.

What is hailed as another "Romeo and Juliet" in modern day is a bit off, but this movie have a few references to the original story.

Jet Li (a master of kung fu) plays Han Sing, an ex-cop who is in prison in Hong Kong. He soon learns that his brother has been killed in America and escapes to find justice.

Meanwhile in California, a war is heating up between an African-American and Chinese crime families (that would be like the two feuding families in Romeo and Juliet).

Han's father controls the Chinese gang while Isaak O'Day (played by (played by Delroy Lindo) controls the other.

As things heat up after Li's brother's death, Isaak O'Day's son is also murdered. Now one family member of each gang is killed, and each think the other is behind it.

The movie really picks up when Han gets to America and hooks up with Trish O'Day (singler Aaliyah) who of course is Isaak's daugher. The two of them team up to find out what is going on and just might find attraction to each other as the story goes on. The movie about backstabbing and greed.

The movie really does have some fine acting in it and some great fight sequences. Jet Li is great even though some of the action sequences didn't show off his abilities. There is some character development, but they do show more of Isaak's gang and back-story more than on the Chinese.

Though this isn't the best action movie out there, they did come up with a new X-ray vision type of shot. At the end of a few action sequences they would suddenly let you see inside a body to see a bone crack or a heart stop. Cool effect.

The video is presented in 2.35:1 anamorphic widescreen and is great as ever. Warner did a very fine job on the transfer. The near perfect picture has perfect color and black levels.

The Dolby Digital 5.1 soundtrack is pretty good as well. The action sequences especially are very strong and some of the music moments will thump. The surrounds could have been used more, but overall another good job by Warner.

Extras include HBO's first look feature, nine short featurettes, two music videos, the making of Aaliyah's music video, bios, trailers and DVD-Rom material.
Please help support our site by buying this DVD title through this link. Thank you kindly.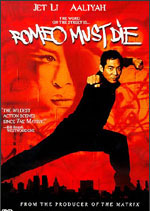 Purchase This DVD
Story / Content



Audio



Video



Extras