ROOTS
Reviewed February 14th, 2002 by Dan Jones
What can someone say about this legendary mini-series?

LeVar Burton and an all-star cast were brought together in 1977 to bring the story of Kunta Kinte to the small screen in an intense 12-hour story (with commercials) spanning over six days. Roots became the highest rating mini-series ever, which is nice to see, as many quality shows go by unnoticed, and therefore un-influential. Roots, definitely made an impact, and I believe it still can to this very day, as well as in the future.

Roots is about Kunta Kinte (LeVar Burton of Star Trek: The Next Generation fame) and how he was taken from his village in Africa, sold as a slave and then taken to the United States. Through Kinte's story Roots goes through the life of slaves in American history and the world. Roots is truly a tremendous, moving story to watch from beginning to end, and should be, in this writers opinion required viewing for our young generation for years to come. This DVD set at least makes that goal possible. Roots will change you; if it does not, then you should really check your pulse, you might be dead. Seriously.

So, 25 years later, this great mini-series has finally made it to the DVD format, let's check out how it rates.

First off, Roots spans over three double sided discs, giving us nearly ten hours (remember there is no commercials this time) of this tremendous mini-series.

The video is presented in its original 4:3 (full screen) format and is actually quite good for the age of the piece. It seems the prints for Roots must have been kept in a very, VERY, safe place; either that, or a tremendous restoration job went into the video presentation. I'm going to have to go with the former on this one, as a detailed restoration would have been costly. Either way, Roots looks VERY good. Undoubtedly the best the mini-series has ever looked. Colors are fairly solid, detail is there, and darks are, for the age of the piece, deep and rich. Compression artifacting is non-existent, along with no edge enhancement problems to be found. Not much to complain about considering Roots is 25 years old.

For audio, not much can be said as we are limited by the technology of the time, and moreover the budget. We are given an English 1.0 mono track, which is adequate overall. Sound wise, this is not as lacking as I expected it might be. The sound is not overly tinny, nor scratchy or distorted, and I noticed no audio dropouts. Things too get a bit bright from time to time on the high end, but its acceptable. Low end is essentially completely lacking, as to be expected. Nevertheless, the overall fidelity of the track is just limited by the source; only so much can be done. We are also given a Spanish mono track, and English, Spanish, and French subtitles, as well as English closed captions.

As for extras, starting it off we have an impressive audio commentary that brings in a ton of people who helped make this series the smash that it was. Ranging from the producer David Wolper, to the writer and director, to members of the cast (including, among others, LeVar Burton, Cicely Tyson, Ed Asner, John Amos, Sandy Duncan, Leslie Uggams, and special makeup effects man Stan Winston), this commentary spans the entire series (yes, the ENTIRE series) and is active and enjoyable throughout.

"Remember Roots" gives us some about twenty minutes of interview footage. This again includes a number of people that participated in the commentary, providing just a bit more information that we might not have gotten during it. Truly a ton of information presented between these two extras, more then I ever anticipated.

That just about does it for the extras, except for a "Roots Family Tree" via your DVD-ROM and an un-exclusive web link.

With a list price of only $59.99 (and who pay's list anymore), this presentation of Roots should be a must own for anyone who owns a DVD player, for nothing more then the content it contains is one of the most important, if not the most important, series ever made. Quality video, acceptable sound, and a HUGE engaging commentary track just put the icing on the cake. Roots is a truly monumental series. If you have not seen it, pick it up; you will not be disappointed. HIGHLY recommended.
Please help support our site by buying this DVD title through this link. Thank you kindly.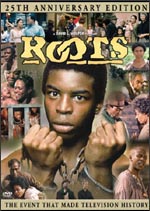 Purchase This DVD
Story / Content



Audio



Video



Extras