ROUGHNECKS: THE STARSHIP TROOPER CHRONICLES - THE PLUTO CAMPAIGN
Reviewed April 24th, 2001 by Todd Terwilliger
This CGI animated series (Roughnecks) comes to DVD from the small screen in its first installment, covering the premier episodes of the show. The show is an offshoot of the big screen Starship Troopers. It does, however, mix in a bit more of the feel of Heinlein's book.

As the title describes, these episodes cover the escapades of our favorite mobile infantry unit on Pluto. Rico and Dizzy return basically unchanged from their live-action counterparts. Others of the crew return under slightly different guises but as basically the same characters. Unlike the live-action version, the mobile infantry include mechanized units as well as armored infantry. These units feature gatling guns and a mean plasma gun.

The CGI animation is quite good although obviously not the caliber of big budget computer animated titles like Toy Story or A Bugs Life. The troopers look a bit doll-like but otherwise well rendered. Lip synchronization was a little off in parts but was not distracting. The bugs look great. The different varieties seen in the movie reappear here, to nice effect. The plasma launching bugs, especially, were great to watch.

Visually, the fullscreen video transfer handles the CGI very well. The drab plutonian landscape contrasts well with the bright humans and earthy bugs. The bright blue of the plasma looks great. The skin colors of the troopers are a tad bright, adding to the doll-like effect, but overall, the skin tones are nice.

Roughnecks is very underwelming in the sound department. Although the mix is Dolby Digital 5.1, the rears are used strictly for ambient sound and music. While there are a myriad of explosions and gunfire, none had much depth. The LFE is used rarely, if at all.

There is not much in extras to beef up the package. A photo gallery and bonus trailers complete the disc. Neither are for much use other than a single viewing nor do they add significant value to the disc.

I had not seen the Roughnecks series on its television run. As a show, it's pretty good. The episodes are smarter than your average Saturday morning fare with a nice added dollup of gratuitous violence trooper style. If you are a fan of the Heinlein book and/or the Verhoeven film, Roughnecks is a nice diversion back into the world of big guns and even bigger bugs.
Please help support our site by buying this DVD title through this link. Thank you kindly.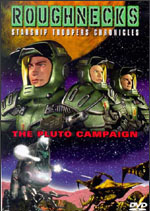 Purchase This DVD
Story / Content



Audio



Video



Extras