RUSH HOUR 2
Reviewed November 27th, 2001 by Dan Jones
"This is my land. Here, I am Michael Jackson and you are Toto…"

After the extremely popular and highly successful Rush Hour, one could only assume that a follow-up would be coming our way, and of course, it has. Rush Hour 2 follows the same successful template from the first film, a fast talking, hot shot police officer played by Chris Tucker, along with the martial arts expert, more serious cop played by Jackie Chan. In the first "Rush" Chan's character met up with Tucker after he was sent to rescue a kidnapped daughter, along with stopping the confiscating of Chinese artifacts. The pair then team up, beat the bad guys, and have some fun on the way. Rush Hour 2 continues this winning formula, but this time, the setting has changed; bringing Tucker to China, where Chan's character is more in his element, and this time Tucker has to do some adjusting, or...lack there of. This time the duo has teamed up to track down a bomber in China who blows up the American Embassy in Hong Kong. Some great martial arts, comedy, and just general fun ensue. Clearly, Rush Hour 2 was a success, raking in quite a bit of profit at the box office. Because of which, Rush Hour 3 is set to be released in 2004.

Whether or not this time around is better then the original "Rush" is really up to the viewer. In my opinion, both movies did what they set out too: entertain. This is not one of those moves that require deep thought, or lasting pondering upon completion. This is not Memento. Rather, this is just one of those grab some popcorn and a pop, sit down and enjoy with friends kind of movies. The movie is swift (only 89 minutes) and the entertainment lasts throughout; what else can we ask for from this type of movie?

For the DVD, Rush Hour 2 was selected into the very nice, quasi-new, Inifilm Line of DVDs created by New Line Cinemas. This release into the Inifilm collection raises the bar on the previous entries; incorporating a DTS ES 6.1 Discrete track and Dolby Digital 5.1 EX, as well as a ton of other nice extras that we all now require on the DVD format.

Rush Hour 2 is presented in 2.35:1 anamorphic widescreen and I must say the transfer is pristine. I did not notice any grain or blemishes on the transfer, colors were vibrant and full, and darks and blacks were rich and deep. There was the occasional digital compression problem here and there, most likely due to the need for a lower bit-rate dedicated to video in order to jam the DVDs many extras in. These little compression problems were not around too often, and for the most part should go unnoticed to those who are not looking for them. Overall, this is another great Inifilm transfer, leaving little more to be desired from it.

As for audio, this Inifilm release of Rush Hour 2 sounds fantastic. Incorporating the aforementioned DTS ES Discrete 6.1 track, along with a Dolby Digital 5.1 EX track, New Line has surely went all out for this release. These two tracks both sound fantastic, giving very active surround to all channels, along with a very active LFE. Which track is the best? I have to say the DTS track wins hands down. This track gave a bit more detail then its counterpart, as well as a more realistic, but not too heavily used, sixth channel. Overall, both tracks are outstanding, kudos to New Line on this one. Also included, we have a Dolby Surround 2.0 track, and English closed captioning.

As for extras, this is where this new Inifilm line truly excels. First off, we have the crazy Inifilm interactive menus that just look great overall. Next, we have the option for audio commentary by Brett Ratner (Director) and Jeff Nathanson (screenwriter). This track is an enjoyable commentary track, giving some good insight into the film. Next, we have nine deleted scenes with optional audio commentary, along with a relatively amusing outtake reel.

The largest supplement on the disc is the "Beyond the Movie" section. This supplement is broken into eight different parts, overall lasting a bit over 20 minutes in length. This is a good supplement, but is definitely not the best behind the scenes I have ever seen. After owning Blow, a previous Inifilm release, I must say that this behind the scenes feature does not quite match up with others on the Inifilm racket...but it does do a decent job. There obviously is not too much more to know about the relatively straight movie that is Rush Hour 2.

Next up we get the standard Inifilm extra, Fact Track, which runs while the movie is playing, giving us some interesting tidbits now and then about a particular scene. Also included is "The Fashions of Rush Hour 2" giving us a look at the clothing shown in the movie (somewhat useless in my opinion), and "Making Magic Out Of a Mire" which is one of those highly fluff pieces that shows us how some of the things in the movie is done; nothing too fantastic. We also get "Visual Effects Deconstruction" which shows us the scene in which the American Embassy in Hong Kong is destroyed, from a multitude of angles...quite cool. "Evolution of a Scene" allows us to take a look at the production of three of the films scenes, "Chicken Chop," "The Bomb," and "Slide For Life." Lastly, we are treated to the standard filmographies, and the original theatrical trailer.

As for DVD-ROM features, Rush Hour 2 actually does a fairly decent job, giving us a "Script-to-Screen" feature that allows us to see the script as we watch, along with access to the Rush Hour 2 website...which supposedly has some new attractions coming December 11th.

So, what's the verdict? Well, Rush Hour 2 makes a very good transfer to DVD, and the new Inifilm line. The video and audio transfers are great, and we get a good deal of fairly good extras. The movie is definitely entertaining, and if you liked the original "Rush," you will like this one too. Recommended.
Please help support our site by buying this DVD title through this link. Thank you kindly.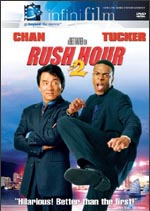 Purchase This DVD
Story / Content



Audio



Video



Extras