SAVING SILVERMAN (R VERSION)
Reviewed September 29th, 2001 by John Randall
"Don't make me take away your masturbation privileges... "

If you are looking for the most awesome movie in the world, then don't look here. That seems like how most critics have described this movie. I (like most people) missed this one at the theater, but was a bit eager to give the DVD a spin. To my surprise there is actually two versions being released: the theatrical PG-13 version and an R version with basically just a slight bit of nudity added.

The cast really is stellar. I'm a big Jack Black and Jason Biggs fan so I knew this flick was going to be pretty silly, but it really was very funny.

The basic story is about three lifelong friends who always hang out together, party together, play in a band together, and are all obsessed with Neil Diamond together. One night at a bar Darren (Jason Biggs) gets hooked up with a new woman. The only problem is she is overly controlling and ends up coming between the 3 friends. Without giving anything away, the story is pretty predictable (even the ending). With that said though, there really are some very outrageous moments.

The video is presented in 1.85:1 anamorphic widescreen and overall is pretty typical of Columbia's great work. The transfer does have some minor problems, but nothing overly distracting. Just in case you want to know, a Pan&Scan is also available on the other side of the disc.

The audio is presented in English Dolby Digital 5.1 and 2.0 (a 2.0 French track is also available). Audio is clear but since this is not much of a "rockin" type of flick, overall the sound is pretty centered on the fronts.

Extras are a bit bare on this one. Of course there are two versions of the disc being released but actually on the disc is an audio commentary with the director, a very short outtake reel, a few trailers and filmographies for the cast.

Again, many critics out there have really torn this movie apart, but if you watch it for what it is, you might really enjoy it.
Please help support our site by buying this DVD title through this link. Thank you kindly.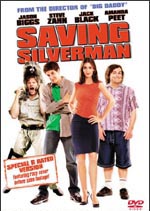 Purchase This DVD
Story / Content



Audio



Video



Extras