SAY ANYTHING
Reviewed June 8th, 2002 by David Nusair
Say Anything..., Cameron Crowe's first foray behind the camera, is not only an incredibly impressive debut, but it's also stood the test of time and become one of the best movies about young love ever made.

The movie is set during that pivotal summer between high school graduation and (what usually seems like) the emergence of the real world. The film opens with Lloyd Dobler (John Cusack) wrestling with the idea of asking Diane Court (Ione Skye) out. But Lloyd doesn't really know Diane all that well; in fact, nobody really does. Diane, known as a "brain," has kept to herself during her high school years – eschewing social activities in favor of long hours of homework and studying. Lloyd decides to give it a shot anyway, though, and is pleasantly surprised when Diane accepts. He asks her to a blow-out graduation party given by the same 20-something man every year, and while most of the attendees recognize her, she finds that she knows very few people there. Lloyd, on the other hand, appears to be a big-man-on-campus type, with virtually every guest saying hello to him. Although Lloyd and Diane seem an unlikely couple, the two begin a summer relationship everyone assumes is doomed to fail – most notably her father (played by Frasier's John Mahoney).

Say Anything…, though it was made over ten years ago, holds up incredibly well – all the more surprising given that it could have wound up resembling a Vanilla Ice video. A lot of films from that time period (the late '80s, early '90s) have aged quite poorly, due mostly to overindulgence in everything that was gaudy and garish about that era. But Say Anything…, like Roman Holiday and all those great romances that came before it, has a certain timeless quality about it. The time and place of the movie takes a backseat to the characters and their motivations – the key difference between a good romantic movie and a bad one. By the time the end credits begin to roll, Lloyd and Diane have become real characters to us; and as such, we want desperately for their love affair to succeed.

This is due in no small part to the lead performances by Cusack and Skye. Unlike contemporary counterparts like Freddie Prinze Jr. and Rachael Leigh Cook, these two actors actually have a good amount of talent and charisma. Their chemistry together is undeniable, which only encourages us to root for them. As Lloyd, Cusack gets the chance to be as charming as ever – the sort of guy most people have known at some point in their lives. And Skye takes what could have been a standoffish sort of person and makes her human (and genuinely likable). The supporting cast is comprised of an eclectic bunch, including Mahoney, Lili Taylor, Eric Stoltz, and frequent Cusack collaborator Jeremy Piven.

Say Anything… may appear to be a teen flick, but really, it's a romance that holds appeal for all ages.

Audio: Say Anything… is presented in (what I assume is) a newly remixed DD 5.1 soundtrack. This is a movie with a lot of music, and it sounds quite impressive. It stays firmly in the rear speakers during dialogue based scenes, but comes to the forefront the rest of the time. For such an old movie, this is actually pretty good.

Video: Ditto the anamorphically enhanced 1.85:1 transfer. Though it's a little soft (which is probably Crowe's intention), the image is otherwise virtually flawless. Other than the occasional film-related artifact, this is pretty darn good.

Extras: First up is a commentary track featuring Cameron Crowe, John Cusack and Ione Skye. And in an usual move, the movie is preceded by a 20-minute introduction from the trio. They talk about the genesis of the project, while various stills pop up. This is certainly a good idea, as it allowed them the chance to focus on what was occurring on screen (rather than talk about how they met or something, which was already covered). Anyhow, this is indeed an excellent track, with heaps of information and interesting tidbits dispensed. If you're a fan of the film (or even just a fan of Crowe or Cusack), this is certainly worth the price of the movie.

Next up are 5 alternate scenes, 11 deleted scenes, and 13 extended scenes – running 11 minutes, 13 minutes, and 24 minutes respectively. Now, the back of the DVD says that the alternate scenes come with Cameron Crowe commentary, but unless I missed something, they in fact do not. None of these scene do, actually. Nevertheless, the majority of them are fairly interesting, and one deleted scene features Dan Castelleneta (Homer Simpson himself) playing a sleazy teacher!

Up next is a seven minute featurette, clearly made before the film's initial release. This contains interviews with the major castmembers as well as with Crowe, and it doesn't provide any info we didn't already gleam from the commentary. It does, however, manage to condense the film into seven minutes, so be sure to keep this for afterwards.

Finally, there are two trailers, eight TV spots, and a picture gallery featuring a whopping seven stills.

Conclusion: Say Anything... is highly recommended, even if you don't ordinarily care for romantic movies.
Please help support our site by buying this DVD title through this link. Thank you kindly.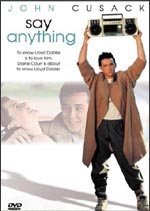 Purchase This DVD

Purchase Promo Poster

Story / Content



Audio



Video



Extras