SCHOOL HOUSE ROCK! (SPECIAL 30TH ANNIVERSARY EDITION)
Reviewed September 14th, 2002 by Brian White
"Lolly Lolly Lolly's. Get your Adverbs here!"

When I was a kid, I was really excited to finally get cable because I could watch American cartoons, from my remote Canadian hometown. I quickly gravitated toward the ABC stuff, as they had Super Friends and Scooby Doo (and who could blame me?). Anyway, I was really surprised by what I saw between the shows. Yes, there were great ads for Star Wars toys, but there were also these little cartoons that contained songs about American history, science, mathematics and grammar. The songs were REALLY catchy, because I'm surprised at how much of them I remember today.

School House Rock! is the effort of an advertisement agency that presented an animated, educational song to Michael Eisner, then at ABC. He offered the agency a contract immediately. The germ of the cartoons was the son of one of the producers. He couldn't remember his multiplication tables, but he knew all of the lyrics to his favorite tunes. His father put two and two together, and School House Rock! was born. The cartoons were labors of love, done on the side while the agency still produced their ads. This love shows, as the songs are really catchy, and the style with which the cartoons are designed is quite cool.

Well, flash ahead a couple of years. Being the victim of some left wing, educational philosophy, I was never oppressed with grammar in school. Everything I learned about grammar came from these cartoons. On rare occasions when a teacher would ask what a noun was, a chorus of "A noun is a person place or thing!" would rise from the class. Thank GOD for these cartoons! Of course, I learned more about American History than Canadian History, but we should take the good with the bad.

On this 2-Disc set we have a generous package. All 46 (!) School House Rocks! cartoons are present, and they're organized into themed sections, like Grammar Rock and America Rock. Going back to the cartoons as an adult, I find they fill the heart with nostalgic joy, and they go quite well with beer. Currently, my wife and I can't get "And then I Unpacked my Adjectives" out of our heads. The cartoons have been preserved about as well as you'd expect.

The best thing about the package is the wealth of included extras. There are commentaries included for the "top ten" cartoons. There is a featurette about the Emmy awards that the cartoons won. There is also plenty of talk about the impact of the show. Without the support of Neilson ratings, the producers had no real way of knowing how popular the cartoons were. Their philosophy was that the kids had to watch them, because they were on between cartoons. Later on, they were surprised to hear classrooms of college students shouting the songs at them. Most interesting is the making of a new song, "I'm Gonna Send Your Vote to College," which both explains and seems to knock the Electoral College. The two male voices that we heard so much in the old cartoons are on the new song, and you get to see them in real life. There are "videos" included for a few cover tunes by such bands as Lemonheads and Better than Ezra. These are basically the original cartoons over the new versions of the songs. There is a trivia game, and some rare cartoons, and an arrange-a-song feature.

The video on the disc is 1.33:1, and the cartoons look pretty good. Some are in better shape than others, but what do you expect?

The audio on the old stuff is more than acceptable, and you have the option of hearing Dolby Digital and DTS 5.1 on the new song only. The digital sound opens up the sound, but doesn't add any directional surround effects. There's nothing really wrong with the original audio, but there's nothing to rave about.

Certainly the cartoons look and sound a lot better than they ever have.

If you have fond memories of these songs, or if you have kids that should learn their ABCs and then some, this is a great disc to own.
Please help support our site by buying this DVD title through this link. Thank you kindly.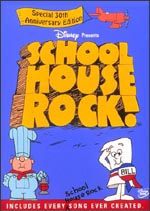 Purchase This DVD
Story / Content



Audio



Video



Extras