SCHOOL OF ROCK
Reviewed March 1st, 2004 by Dan Jones
"Give up, just quit, because in this life, you can't win. Yeah, you can try, but in the end your just gonna lose, big time, because the world is run by the man... The Man, oh you don't know the man? He's everywhere... in the Whitehouse... down the hall -Ms. Mullins, she's the man. And the man ruined the ozone, he's burning down the Amazon, and he kidnapped Shamu and put her in a chlorine tank! And there used to be a way to stick it to the man, it was called Rock and Roll, but guess what, oh no, the man ruined that too with a little thing called MTV! So don't waste your time trying to make anything cool or pure or awesome cause the man is just gonna call you a fat washed up loser and crush your soul. So do yourselves a favor and just give up!! "

I can imagine no role that would fit Jack Black better then what Richard Linklater has provided in The School of Rock. Here, Jack plays Dewey Finn, a 30-something hard-rock guitarist who has been kicked out of his band for being an "embarrassment." Adding to his troubles, his roommate Ned Schneebly, lead by his girlfriend Patty (Sarah Silverman), is forcing him to start paying rent or move out. Seeing a chance to make some money, Dewey pretends to be Ned after receiving a call asking for Dewey to come substitute teach 5th grade at a well-to-do prep-school.

At the beginning its obvious that Dewey has no desire but to let the kids do whatever they want during the time he will be their instructor. This attitude soon fades though after he hears the class in their weekly music class. Dewey, seeing a way to get back at the man and his ex-band, decides to create his new ultimate rock band with the classís help. His goal: win The Battle of the Bands.

Overall I canít say enough about how perfect of a part this is for Black. Then there are the kids, all extremely talented musicians who are 100% natural as actors. The chemistry between Black and the kids is just electric. This is a perfect feel-good fun film.

And they didnít skimp on the DVD.

Presented in 1.85:1 anamorphic widescreen, the film looks as good as you would expect it. Sure this isnít a film with huge amounts of gloss and sheen, but the source is near perfect and there are no noticeable edge enhancement or compression problems. A very solid transfer.

Audio wise, we are given a 5.1 Dolby Digital mix that sounds good, but leaves a bit to be desired in terms of dynamic range and activity. Most of the action comes from the front three, with the surrounds and the subwoofer being used in the films soundtrack. A good mix but perhaps not as "rocking" as I thought.

Starting off the extras we have two audio commentaries, one by Linklater and Jack Black, and the other by the kids. Obviously the Linklater and Black commentary is the one to listen to if you have to choose. Here we get a lot of fun banter and some detail on how the story was formed, how shots changed from script to script, as well as other amusing anecdotes. The kids commentary is a bit much at time, with the kids obviously just having a good time recounting the film.

"Lessons Learned on School of Rock," coming in at about 25 minutes is an excellent featurette chalk full of interviews with a lot of the cast and crew, including some comments from Linklater, but focusing mostly on Jack Black. A very interesting and funny addition.

"Jack Black's Pitch to Led Zeppelin" is another fun addition, showing Black pleading to use Led Zeppelinís "The Immigrant Song." Needless to say he was successful. Though, I canít help but feel a little bad for Cameron Crowe at this point (he was unable to get the rights to "Stairway to Heaven" for his film Almost Famous).

Next we have a music video with Jack and the kids, with shots of the film worked in between. Then we have the always funny MTV Diary with Jack Black directed by Liam Lynch (who does most of the Tenacious D. material); showing a day in the life of Mr. Black.

Rounding it out we have the "Kids' Video Diary: Toronto Film Festival" which follows Mr. Black and his pint-size co-stars around before and after the film's premiere. We also have a nice DVD-ROM feature entitled, "Dewey Finn's History of Rock."

Overall, School of Rock is a very fun, warm and entertaining flick making it easily one of the best comedies of last year. This DVD is quite nice, with solid video and audio and a good deal of supplemental material. This is an easy recommendation.
Please help support our site by buying this DVD title through this link. Thank you kindly.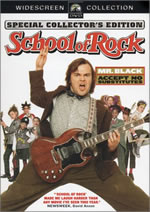 Purchase This DVD

Purchase Promo Poster

Story / Content



Audio



Video



Extras