SHERYL CROW: ROCKIN' THE GLOBE LIVE
Reviewed January 18th, 2000 by Staff
Sheryl Crow: Rockin' the Globe Live is, as you can see in the title, a recording of a show in Detroit during her "The Globe Sessions" tour. All in all, there are 16 tracks located on this DVD including most of her big hits, for example: My Favorite Mistake, If It Makes You Happy and All I Wanna Do. Conspicuously missing is her biggest hit, Leaving Las Vegas. Perhaps she's already gotten tired of playing the song which would be a shame since it was her best single out before "Everyday Is A Winding Road."

How Does The Disc Look?

Considering this is another DVD concert shot on video, the colours are very bright and vibrant, not what you would normally expect. Perhaps it was shot on digital beta or D3, but it certainly wasn't shot on film. As far as the aspect ratio is concerned you get the standard 4:3 fare, but as always, a nice widescreen ratio would have been nice to show off the entire stage instead of the usual "cut-off" look of 4:3.

How Does The Audio Sound?

Here is where this disc gets interesting. Not only do you get the standard Dolby Digital (DD) 2.0 stereo mix, but you also get a great sounding 5.1 mix. However, the real crown prince of this DVD is its outstanding DTS 5.1 surround mix. Listening between the two 5.1 mixes you get a real sense of expansion in the DTS mix, whereas with the DD mix, the soundstage is there, but not as "filling." Guitar's, bass and drums are nicely mixed with proper panning and excellent placement (something that is not always there with some live recordings). Sheryl's voice comes through loud and clear with no noticeable signs of distortion or noise and as with all DTS vs. DD discs you find yourself turning the volume down with switching over to DTS. This is one solid recording in stereo, let alone the excellent mixing and mastering done in both DD 5.1 and DTS with the aforementioned nod to the DTS version.

What Extra's Do You Get?

In a nutshell… None! Absolutely zero, zilch, nada, nyet. There's no bio, no lyrics, no witty featurette, nothing.

Well?

If you are a big Sheryl Crow fan who can't live without anything she records or produces you probably already have this DVD. However, if you truly enjoy concert DVD's with excellent recordings and great mixes this is a disc to have in your collection. Remember you aren't buying it for all the neat bonuses, you are buying it strictly for a great sounding and looking DVD.
Please help support our site by buying this DVD title through this link. Thank you kindly.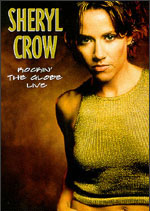 Purchase This DVD
Story / Content



Audio



Video



Extras