SCROOGED
Reviewed May 21st, 2000 by John Randall
Some Christmas theme movies are good to watch year round – of course this is one of them. Scrooged is a modern day take on Charles Dickens' classic novel called A Christmas Carol. The story in essence is you got a guy who's not living his life in a compassionate way and ends up getting visited by 4 ghosts (his friend, the ghost of Christmas past, present and future). The ghosts have a job: to convince the man to change his ways – either out of emotion or scaring him to death.

In this version you have Frank Cross (Bill Murray) who is the youngest president in the history of television. Greed has changed Frank to the point where is extremely selfish – but he wasn't always like that. Frank has scheduled a live television show for Christmas Eve, which is ironically called "Scrooge". So while they are getting the show ready to air, Frank himself must go through the same scenario in his own life.

This is a very funny movie by director Richard Donner. Not only does Bill Murray do a great job, but also there are some familiar faces that pop up throughout the movie. The cast includes: Karen Allen as Frank's old love Clair, Carole Kane as the Ghost of Christmas Present, Bobcat Goldthwait as and employee of Frank's named Eliot Loudermilk and the very funny David Johansen plays the Ghost of Christmas past. Also in the cast are Alfre Woodard, Robert Mitchum, Lee Majors, Robert Goulet, Buddy Hackett, Mary Lou Retton and more.

The video is presented in 1.85:1 anamorphic widescreen and is almost perfect. Most people have enjoyed this movie for years in its pan&scan version. It was really nice to see the full image again – catching those little things that were cropped out. There is a bit of grain that can be seen from time to time, but overall image, sharpness, colors and black levels seem right on.

The audio is presented in 5.1 and a English and French 2.0 soundtrack is also available. It was great to hear the 5.1 track, but it wasn't as active as I would have liked to have heard. Most of the movie came only out of the center speaker with the occasional directions out of the other speakers and LFE channel. Dialogue, music and special effects all sounded very good.

The only bonus you get on this disc is one trailer for the movie and its mono but in widescreen.

In conclusion, this is a great movie and a good DVD. Well worth a purchase. The movie is rated PG-13 and runs about 100 minutes.
Please help support our site by buying this DVD title through this link. Thank you kindly.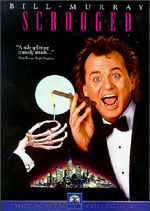 Purchase This DVD
Story / Content



Audio



Video



Extras