SERENDIPITY
Reviewed April 22nd, 2002 by Dan Jones
Serendipity: The faculty of making fortunate discoveries by accident.

After seeing the trailer for Serendipity I was quite interested in seeing the film; I'm a big John Cusack fan and it seemed Serendipity placed him in a similar character as he played in one of my favorite love story films, Cameron Crowe's "Say Anything" (well, maybe not similar, but a love-struck character nonetheless). Now, after viewing Serendipity, I must say it is a quality film with solid acting and a storyline that does leave you guessing; this is not a cookie cutter love story, moreover I cannot really tell if it is a "date movie"... I tend to think that it could easily be considered or not considered one; maybe you will understand why I think this after viewing the film.

Serendipity begins with John Cusack's character Jonathan Trager accidentally meeting up with Sara Thomas (played by Kate Beckinsale) after they both grab for the last pair of black cassimere gloves on the racks during last minute Christmas shopping. After they reach an agreement they both agree go to a nearby coffee shop, nicely called Serendipity, to talk. The night goes well from here, with the two miraculously re-meeting at the coffee shop. They then agree to spend a bit more time together, going to a nearby ice rink. Of course, both these people are in relationships, so they seem somewhat torn as to what they should do, Sara more so of the two. She agrees to give Jon her phone number only by putting her name and number in a book in which she will sell to a used bookstore the next day for Jon to find later on in life. In return, Jon will write his name and number on a five-dollar bill, in hope Sara will find it eventually. She believes that if they can find these mementos, they are fated to be together; if not, then they were not. A bit more goes into this, but that is the general idea.

Flash forward a few years; both Jon (in New York) and Sara (in San Francisco) are on the verge of getting married to their respected significant others, yet they seem to be constantly reminded of this chance encounter years before.

From here, I will stop as to not waste some of the unexpected twists and turns of the film. The movie flows quite nicely with a brisk ninety-minute run time, never becoming boring, stale, or predictable. Cusack puts in another great performance as a man head-over-heels in love; Beckinsale also puts in a very strong performance as the mysterious Sara. There is also a solid supporting cast in Jeremy Piven as Dean, Jon's longtime friend, Molly Shannon as Eve, and Eugene Levy as a very amusing salesman.

For Serendipity's DVD presentation, Buena Vista has done quite a solid job, let's take a look.

Video wise, Serendipity is presented in 1.85:1 anamorphic widescreen. This transfer is very solid with no real glaring imperfections to speak of. The color palette is strong; flesh tones are on, blacks and shadow detail is strong. There seems to be just a little source damage in the way of an occasional scratch here and there, but nothing distracting or noticeable unless you are looking for it, as I have to. I could not find any compression problems, or real edge enhancement issues. This is not a generally "wowing" presentation, just very solid, very film like.

Audio wise, Serendipity has been given English and French Dolby Digital 5.1 mixes. These mixes are quite good with a nice subtle enveloping effect. All channels are used, yet none are overdone giving a very nice casual surround sound experience, which fits just right with the type of film presented. The LFE is used rather sparingly, basically only for the score of the film. Dialogue is crisp and clear, and imaging is solid all the way around. This is definitely an above average mix for a heavily dialogue driven film. Also included are Spanish subtitles and English closed captions.

The extras start with a fairly good audio commentary by the film's director, Peter Chelsom. The commentary is not overly plot based, giving some information on the cast as well as what went into shooting the film. Worth a listen.

Next, we have nine deleted/alternate scenes. None of these are overly important; to me it is no surprise some of these were cut, although a rather interesting one is when Sara "cubes" Jon. These are all worth a watch, but they delve into nothing of great importance.

Next, we have the production diary for the film that goes through a number of the days in the filming process. These can be amusing to watch, but really, no new information is given through watching it. Good inclusion though.

"On The Set: Serendipity" by Starz gives us a nice, somewhat promotional, look at the film. Really, no new information comes out here either, but we do get to talk to some of the cast and crew, which seemed to greatly enjoy the film.

Finally, we have the standard issue of the theatrical trailer (in 5.1 Dolby Digital, but full frame), stills gallery, and a storyboard comparison.

In conclusion, Serendipity is a nice love story film that never takes itself too seriously. It's a fun ride, while being somewhat unpredictable leaving the viewer interested throughout. If you are a fan of Cusack's work, you should really check this out; another great job by him. If you like love story's, you will probably like Serendipity also, it's fairly original and enjoyable. Recommended.
Please help support our site by buying this DVD title through this link. Thank you kindly.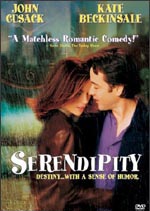 Purchase This DVD

Title Has Easter Eggs

Story / Content



Audio



Video



Extras