SEVEN YEARS IN TIBET (SUPERBIT)
Reviewed March 16th, 2003 by Dan Jones
"We have a saying in Tibet: If a problem can be solved, there is no use worrying about it. If it can't be solved, worrying will do no good."

Seven Years in Tibet is a good film, yet it is fatally flawed by Hollywood tendencies. One would think, with the title "Seven Years in Tibet", that at least the majority of the film would revolve around said years…yet this is not the case, rather the film acts independently for half of its runtime before actually getting into a meaningful story.

Starring Brad Pitt as Heinrich Harrer, Seven Years in Tibet is about the somewhat accidental journey of a man into Tibet where he meets and is welcomed by the young, 14-year-old, Dalai Lama (played by Jamyang Jamtsho Wangchuk). The problem is, is that the film doesn't focus on the obviously more interesting Dalai Lama, but rather Pitt's character, the western adventurer. The film begins with Harrer, whom is an Austrian national and a member of the Nazi party, leaving his wife and wife and unborn child to go climb the Himalayans (nice, eh?). The climb doesn't go according to plan and soon Harrer and some of his crew end up as prisoners of war, captured by the British. Eventually, Harrer and one of his crew members, Peter Aufschnaiter (played by David Thewlis) escape successful. On their journey away from the area they come to Tibet, where the young Dalai Lama takes interest in them. From here, the real point of the story comes into place, the interaction between these two very different cultures and the importance of this young boy, the Dalai Lama.

As you can see, the film has an essentially meaningless beginning, unless it is to show Harrer's transformation from his leaving to his seven year stay. But, if that is the only reason for the beginning, it could have been done much more swiftly allowing more time to be placed on the important aspects of the film, and the important person in history.

Nevertheless, once the film gets started it does have its merits. The cinematography is exquisite, and the characters are well rounded and well acted. On to the DVD.

This will be the second release of Seven Years in Tibet to the DVD format, this time coming in the way of a Superbit release from Columbia/Tristar.

So what is Superbit? (If you have read my previous Superbit reviews, forgive me for repeating myself) Well, the goal behind the Columbia/Tristar Superbit line is to basically take the current DVD technology, and push it to the greatest of extents in terms of digital picture and sound, by increasing the bandwidth allowed to the video and audio tracks; instead of dropping these bit rates to make room for ANY supplemental material, interactive menus, etc. Columbia/Tri-Star has created a new type of Superbit releases with extras, namely the "Superbit Deluxe" editions, but this release of Seven Years in Tibet is not a part of this.

Reference quality video, no doubt. Presented in 2.35:1 anamorphic widescreen this transfer really puts the ideology behind Superbit to the test. Seven Years in Tibet has numerous scenic and environmental shots just overflowing in detail and they are all represented here perfectly. Colors are vibrant without bleeding, contrast seems just right, and blacks are deep and rich while holding great detail. I noticed neither edge enhancement or compression problems. This is truly a spectacular transfer.

On the audio side we have been given tracks in 5.1 Dolby Digital and DTS. These mixes are some of the tamer tracks you'll find in the Superbit series, but it's impossible to fault in terms of quality. The nature of the film is most mostly dialogue based and positioned to the front so the tracks don't have an exceptionally enveloping feel to them. But, when the scenes call for it this track really sounds excellent, namely during the end of the film. Overall, it's a very clean and crisp track with great dynamic range when needed. What more can you ask for?

Extras? This is non-Deluxe Superbit…so no.

Seven Years in Tibet is a confused film. It does have a very interesting story underneath, it just doesn't give it enough screen-time to really play out. We don't learn much about the Tibet culture, nor the Dalai Lama, rather we focus more on this stranger that has just walked into their world. While this might work in theory, when half the movie is anchored in scenes that just build the adventurer's character, things go awry. Nevertheless, it's a good film, it just could be better. As for this DVD, this is undoubtedly the best presentation you're going to find until we get into HD-DVD. Truly breathtaking video and excellent audio. If you're a fan of the film you're going to have to pick up this release.
Please help support our site by buying this DVD title through this link. Thank you kindly.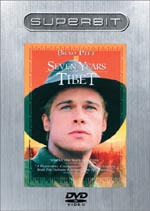 Purchase This DVD
Story / Content



Audio



Video



Extras