SHADOW OF THE VAMPIRE
Reviewed June 3rd, 2001 by Len D. Martin
Cast: John Malkovich (F.W. Murnau), Willem Dafoe (Max Schreck/"Count Orlock"), Cary Elwes (Fritz Arno Wagner), Aden Gillett (Henrick Galeen), Eddie Izzard (Gustav von Wangenheim/"Thomas Hutter"), Udo Kier (Albin Grau), Catherine McCormack (Greta Schroeder/"Ellen Hutter"), Ronan Vibert (Wolfgang Müller).

Director: E. Elias Merhige.

Story: This is a What-If? Story. It is 1921 and F. W. Murnau, unable to secure the rights to "Dracula" from Bram Stoker's widow, is in the process of making his own epic vampire picture, "Nosferatu". He has traveled to an old castle in Czechoslovakia for the filming of his vampire epic. There, he introduces his cast and crew to the star of the film, Max Schreck. He tells them that Max is a method actor - he will work only at night and he will wear his make-up at all times. But, what they do not know is that Max is a real vampire(!) and he has made a deal with Murnau to star in the picture, if he is permitted to drink the blood of the leading lady in the final scene. Murnau grows increasingly obsessed with finishing his film, while Schreck goes about feeding himself with cast and crew. Meanwhile, Murnau begins to emerge as the film's true monster, willing to do whatever it takes to see his masterpiece finished, by sacrificing his crew, cast, and his own humanity in the name of achieving immortality through art.

Audio: Presented in English Dolby Digital 5.1 and DTS Dolby Digital 5.1 and French Dolby Digital 5.1. The Dolby Digital 5.1 sound is excellent with deep rich bass.

Video: Presented in Anamorphic Widescreen 2.35:1 - Enhanced for 16x9 televisions.

Extras: Featurette: A Behind-The-Scenes Look At The Making Of The Film; Feature Commentary with Director Elias Merhige; Interview with Actor Willem Dafoe; Interview with Director Elias Merhige; Interview with Producer Nicolas Cage; Photo Galleries; Theatrical Trailer; Production Notes; Cast and Filmmakers.

Comments: An excellent film!! A tour de force for both Malkovich and Dafoe. Dafoe's Oscar Nomination was well deserved as he is outstanding as Schreck, both in mannerisms and make-up. In my humble opinion, Malkovich should have been nominated also. For added enjoyment, I recommend viewing the original "Nosferatu".
Please help support our site by buying this DVD title through this link. Thank you kindly.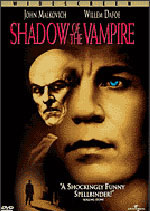 Purchase This DVD
Story / Content



Audio



Video



Extras