SHAKESPEARE IN LOVE (CE)
Reviewed March 19th, 2000 by Brian White
In true Disney fashion, a very large DVD release is re-released months later in a special edition package. As with the Bug's Life SE, and Criterion's Rushmore, Shakespeare in Love's special treatment does not disappoint.

The award-winning film is absolutely brilliant. Co-writer Tom Stoppard's unique understanding of the Bard, as was demonstrated in the excellent Rosencrantz and Guildenstern are Dead, is all over this film. For a more detailed description of the plot, see the review of the standard edition of Shakespeare in Love.

The picture on this disc is fantastic. The 2.35:1, anamorphic print (the first released by a Disney subsidiary) captures Richard Greatrex's beautiful cinematography perfectly. So much of this film is beautiful and this transfer does it more than justice.

The sound is quite good as well, although not a terribly dynamic 5.1 mix. Because there are few car chases or space battles to be found in the film, a wide soundstage wouldn't fit with the film. Music is mixed well through the front channels, and applause from the theatre scenes is heard in the split surrounds. There is also a French language track included.

Of course, the reason to purchase this disc is the menu of extras. The disc boasts:

- Shakespeare In Love and On Film documentary

- Television spots

- Information about the Academy Award Winning Costumes

- A full length, scene specific commentary track by director John Madden

- Commentary from the cast and crew, which is somewhat screen specific and probably interview soundbites

- Deleted Scenes

- Shakespeare Facts

- Trailers

The extras are plenty, and of a good quality. Madden's commentary track is quite informative, and the documentary about Shakespeare on Film documentary is interesting. Shakespeare in Love is an excellent film, and a great edition to any DVD library. The consumer looking to buy this movie on DVD should select the special edition.
Please help support our site by buying this DVD title through this link. Thank you kindly.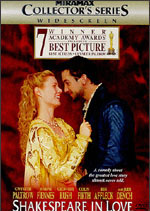 Purchase This DVD
Story / Content



Audio



Video



Extras