SHANGHAI NOON
Reviewed February 18th, 2001 by Len D. Martin
Cast: Jackie Chan (Chon Wang), Owen Wilson (Roy O'Bannon), Lucy Liu (Princess Pei Pei), Brandon Merrill (Falling Leaves), Roger Yuan (Lo Fong), Xander Berkeley (Marshall Nathan Van Cleef), Jason Connery (Andrews), Walt Goggins (Wallace), Adrien Dorval (Blue), Rafael Báez (Vasquez), Kate Luyben (Fifi).

Director: Tom Dey

Story: Chon Wang, a member of the Imperial Guard, is sent to American to retrieve the kidnapped Princess Pei-Pei. He goes West with three other guards and his translator uncle. When the uncle is killed by the slightly wacky new guy in a gang of outlaws, Wang must continue his search alone, until he meets up with the head of the outlaws Roy O'Bannon, and they become an unlikely duo. Off they go in search of the Princess, chased by the former members of O'Bannon's gang, a slightly evil sheriff, Indians, and the traitor Lo Fong who kidnapped the princess.

Audio: Dolby Digital 5.1 Surround that really comes out at you . Also presented in a French 5.1 Surround Language track and Spanish Subtitles.

Video: Anamorphic Widescreen 2.35:1 - Enhanced for 16x9 televisions. The colors are brilliant.

Extras: Audio commentary by Jackie Chan, Owen Wilson, and Tom Dey; 7 Deleted Scenes, including a never-before-seen special effects train wreck sequence; Behind the Scenes Featurettes on the film's production, the stunts, the special effects, Jackie Chan's unique comedic style and much more; "Action Overload" - a fresh look at the film's most exciting action sequences; Uncle Kracker Music Video; and "Shanghai Surprise" where you will find two quiz games under the menu entry 'Shanghai Surprise.' If you finish these games correctly, you will be treated to some additional extras. The first game, called "Roy's Revenge", gives you the chance to see a preproduction animatic of another train crash scene that did not make it into the movie and was never shot. The second game, "Chon's Challenge" takes you to the drinking game scene in the movie, but this time, the Chinese parts are fully translated and subtitled into English.

Comments: East meets West in another great Jackie Chan movie. The chemistry between Jackie and Owen is great. And keep your eye on Xander Berkeley as "Van Cleef". If you're a fan of the Clint Eastwood, 'Man With No Name', Movies, then you'll remember actor Lee Van Cleef from these films and Berkely has him down pat.
Please help support our site by buying this DVD title through this link. Thank you kindly.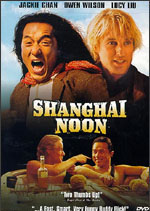 Purchase This DVD
Story / Content



Audio



Video



Extras