SHREK
Reviewed November 11th, 2001 by Brian White
Let me get this out of the way before I start: I am a total Pixar fanboy. I think that the animation studio behind Toy Story, Bug's Life and the new Monsters Inc. can do no wrong. I found it offensive that Dreamworks put out another CGI ant movie around the same time that Bug's Life came out, especially considering that Jeffrey Katzenberg worked for Disney when the Pixar film was being pitched. I suppose I have more than a healthy bias toward Dreamworks CGI animation for that reason. When Shrek came out, I was like; "Well what are they trying to do this time?" Certainly having Mike Myers doing a Scottish accent as the title character sounded intriguing. I waited for the DVD release, suspecting that I'd buy it anyway, before seeing the film. I was pleasantly surprised with what I saw.

In the movie, Shrek is an ogre who lives in a swamp. He reluctantly gains a sidekick, the over-talkative Donkey, after saving him from Lord Farquaad's troops. One day he finds his beloved swamp overrun with fairytale characters, as they've been banished by the diminutive Lord Farquaad. Shrek goes before the Lord to demand his space back and is offered his swamp in return for saving a princess from a dragon. Wackiness ensues.

Shrek is a very entertaining movie. Eddie Murphy, who voices the chatterbox Donkey, is hilarious, and the whole tone behind the movie is much less sentimental than a Pixar film, and thus funny in a different way. Despite my Disney/Pixar bias, I was hoping for more anti-Disney humor, but Shrek is funny without that. I've not switched religions here, but I'll give the devil his due: Dreamworks has hit a homerun with Shrek. John Lithgow is great as Lord Farquaad, his name a joke that still makes me laugh whenever I hear it in the film. There is a thumbing of the nose at many fairy tales, and a great story between Myer's ogre and Cameron Diaz's princess. I've heard a few soccer moms complaining at the mall about double entendres in the film, but I can report that there's nothing here to offend your kids, or teach them the wrong thing. Don't worry.

Now I read some blasphemy about this movie. People were actually saying that Shrek looked BETTER than Toy Story2. Well, if you read that first little part, you would understand how I found this assertion a little hard to stomach. Shrek looks very good, and I must admit that I saw a few scenes here that were much more awe-inspiring than anything I'd seen in a Pixar film. Of particular beauty were the shots of Donkey and Shrek walking through the countryside.

Shrek is a demonstration-quality DVD. Dreamworks seems to have learned a lesson after transferring Antz to DVD from film, rather from the hard drives at their animation studios. Pixar did the latter with their movies, and the result is amazing. Shrek is a direct digital transfer with no blemishes, or jitteriness. Colors and detail are absolutely amazing. This movie is very artful and beautiful. This 1.85:1, anamorphic transfer is absolutely stunning. The anamorphic print is on disc two, while the full-frame version is on disc one. The packaging does not reveal whether the movie was reframed, ala Bug's Life, for full frame.

The audio mix is great as well. Available in Dolby Digital and DTS 5.1 surround, the movie sounds as great as you'd expect a big-budget animation flick to sound. This mix is not as dynamic as those found on the Pixar films, but it is still quite good. Contemporary music is mixed into the film, and it sounds excellent.

How about extras? This disc is being touted as one of the richest special editions ever. Well, I think the 3-Disc Criterion Brazil takes that cake, but Shrek has an awful lot of stuff crammed on the discs. There's a great commentary track that includes the two directors. This is a fun track because it is both anecdotal and technical. There's a lot of information there, and a lot of entertainment. The disc contains an ultra-promotional HBO behind-the-scenes type of documentary, and an uber-technical "Tech of Shrek" featurette to teach you more than you wanted to know about this stuff. I really enjoy the sing-along bit, and the technical goofs that include a way-too fuzzy Donkey. One of the highlights of the extra features is an exclusive "melody" in Dolby Digital 5.1 in which all of the characters in the movie sing a melody of modern songs including "Like A Virgin", "YMCA", "Staying Alive" and many more. This was hilarious! Also included are some simplistic children's games and even more games if you have a DVD-ROM player. There really is a ton of extras here. A much cooler DVD-ROM feature is the voice studio that lets you put your voice onto the characters. Highly recommended.
Please help support our site by buying this DVD title through this link. Thank you kindly.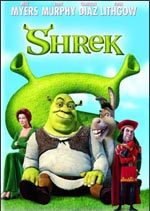 Purchase This DVD
Story / Content



Audio



Video



Extras