SIGNS
Reviewed January 16th, 2003 by David Nusair
Signs, like M. Night Shyamalan's previous two films The Sixth Sense and Unbreakable, is virtually impossible to talk about without spoiling something. Signs, one of the scariest movies to hit in a good long while, is probably far more enjoyable for the viewer who knows next-to-nothing about the plot. Bearing that in mind, I'll try to tiptoe around the major story developments.

Mel Gibson stars as a former preacher who's lost his faith after the death of his wife, and now lives with his two children and brother (Joaquin Phoenix) on a farm. Though he's finding it increasingly difficult to communicate with his children, the family is united by the appearance of an enormous pattern in their crops. Gibson is initially certain that the whole thing is a prank by local punks, but as more and more distinctive clues pile up, he begins to wonder if it isn't something more.

Unlike the majority of so-called scary movies (including Shyamalan's own Sixth Sense), Signs contains a good deal of frightening images and genuinely suspenseful moments. There are no oh-it-was-just-the-cat moments here; every suspenseful sequence belongs within the context of the movie. When Gibson goes out into his field in the middle of the night after hearing odd noises, that scene is incredibly tense because you just know he's going to see something odd out there.

Shyamalan's previous two movies had serious pacing issues, a problem which has been fixed here. Though Signs will never claim to make Speed look like a slow ride to Grandma's house, it moves at exactly the right speed (no pun intended) that the material warrants. It's that slow build that makes the movie as scary as it is, because we're in the same position Gibson's family is. We learn information when they learn it; the audience is never a step ahead of them. And though some of Shyamalan's fans will complain of the lack of a twist ending, think about it - is this really a movie that would have been enhanced by such a conclusion?

Gibson gives one of the best performances of his career here, and that alone makes Signs worth seeing. Add to that a storyline that is genuinely scary, and you've got a winner on all accounts.

Audio: Signs is presented with a DD 5.1 soundtrack, and itís quite astonishing. Though nothing will compare to seeing this movie in a well-equipped movie theater, this sound mix does an amazing job of replicating that experience. The movie relies a lot on sounds (most of which are subtle) to produce scares and an ominous atmosphere, and this soundtrack certainly makes it seem as though youíre right there in the farm house with Gibson and co.

Video: This 1.85:1 anamorphic transfer is equally good, and considering how dark the majority of this movie is, thatís really saying something. The image is fairly grainy, though itís probably likely that has more to do with the choice of film stock.

Extras: Shyamalan elected not to record a commentary for this release, but the disc does include an hour-long documentary thatís pretty darn informative. The documentary actually consists of six parts (Looking for Signs, Building Signs, Making Signs: A Commentary by M. Night Shyamalan, The Effects of Signs, Last Voices: The Music of Signs, Full Circle), which you can either watch separately or as one long featurette. There is a lot of interesting information to be gleaned here, but the most compelling section has to be the Making Signs portion. Running over 20 minutes, this essentially acts as the commentary Shyamalan never gave as he walks us through the entire film (in snippets, obviously) and explains his reasoning behind the script. The other portions are just as informative, covering everything from the first production meeting to the recording of the score. Next are five deleted scenes, adding up to around seven minutes. Though they were interesting enough to look it, they donít add much to the overall story and itís clear why Shyamalan cut them out. Next up is a storyboard section, where you can watch one of two scenes (Gibson and Phoenix scaring off the intruders and Gibsonís encounter with one in the pantry) with three sound options Ė the final mix, just the score or just the sound effects. You can also use the multi-angle feature to toggle between the final version and the storyboards. The final extra is a one-minute snippet from an early film by Shyamalan, preceded by a minute long introduction. Itís interesting, but doubtful youíll want to watch it more than once. The most surprising omission on this disc, aside from a commentary track, are the two theatrical trailers. They were immensely entertaining and their absence is sorely felt here.

Conclusion: Signs is one of the scariest movies ever made (no, really) and this DVD package really does it justice. Donít watch it alone.
Please help support our site by buying this DVD title through this link. Thank you kindly.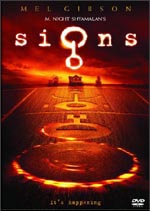 Purchase This DVD

Purchase Promo Poster

Story / Content



Audio



Video



Extras