SIMON BIRCH
Reviewed July 26th, 1999 by Staff
Simon Birch is the name of the main character and the movie. Simon was born to a working class family. His father owned his own granite company. Simon is in search, as most people are, of their purpose on earth. Simon's best friend Joe is in search of his father. Simon was born an abnormally small child at 12 years old he towered a full 2-1/2 feet tall. Simon has faith that he was put on this earth for a purpose. 12 years pass and he wonders what that purpose is! Will Joe find his father; will Simon find his purpose? This movie is great for the whole family and is full of clean fun and ups and downs.

The video quality was really good. No grain was visible and the colors were dead on. Unfortunately this movie is not anamorphically enhanced.

The audio was a treat with a full DD 5.1 sound track. This allows you to hear all the birds chirping and really draws you into the movie. The sound track is crisp and clear with well-balanced vocals, along with the action scenes. Some movies you have to turn up the sound because you can hardly hear the characters talking, then when an action sequence comes around your scrambling for the remote to prevent you from being blown through the back of your living room. This is not the case with this movie!

The extra's again are poor, does someone see a trend here? Only a theatrical trailer is given to the consumer. This movie is full of stars including Joseph Mazzello, Oliver Platt, Ian Michael Smith, and Ashley Judd. One curious thing was a huge star Jim Carrey was also in the movie, but was given no billing. This maybe because people would instantly think this was a comical movie and could have taken away from it. Jim Carrey did a great job as the grown up Joe. Overall, if you can find this little gem on sale pick it up or visit your local rental store and pick it up tonight!
Please help support our site by buying this DVD title through this link. Thank you kindly.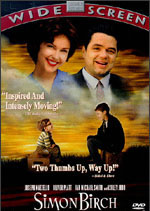 Purchase This DVD
Story / Content



Audio



Video



Extras